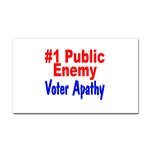 I have been covering elections since 1968, back when I was too young to vote but old enough to be a journalist covering the elections. Just like the soldiers old enough to ship to Vietnam but not old enough to legally vote against that war.
I've only missed two elections in my voting life, and as a writer I've covered 30 years worth of voting ups and downs. I have painstakingly worked to implant the importance of voting to my daughter, my grandchildren (two of whom are now old enough to vote), and anyone who can and should be registered to vote. That's why I found myself upset and disturbed at the end of the day, Thursday, August 7. Primary day. A day of another kind of infamy: a day of voter apathy.
What else can you call it when a meager 11.86% of the registered voters show up to cast their vote?
I have a number of other adjectives: disgraceful, unpatriotic, disrespectful, and just plain lazy. When I first voted in New England one brisk September morning, we had one day and one day only to show up and vote. It was dicier in November, when the odds of a cold November rain or even an early blizzard could change the shape of an election by placing oversized puddles, torrential downpours, an occasional ice storm, or a small blizzard in the way, limiting how easily a voter could get to a precinct on that solitary voting day. Forty years later in Tennessee, I have the opportunity of voting at my leisure anytime in the two-week "early voting" period or voting on the "day of…" Somewhere in that 15 day window of opportunity I can find time and enough good weather to get out and vote. What are we waiting for, door to door service?
Voting is right, a privilege, an opportunity. And yes, voting as it is done now with machines and ambiguous technology has its challenges, as evidenced by the demand for a return to veriafiable (read: Paper) ballots. But anyone who dares to think one vote, their vote, doesn't make a difference need only look at the results in District 22 on August 7. A 19-vote difference with 11.89% of the registered voters showing up. Imaging the possibilities if even 50% had turned out.
Apathy and ambivalence rule; people think they cannot make a difference, that their voice doesn't matter, that politicians listen then do as they please. Why not, since no one, including voters who have the power, opt to challenge them?
Apathy and ambivalence rule; as long as people are too lazy, too disinterested, too inattentive to get out and vote, they will continue to get the very thing they complain about: politicians who are disinterested and inattentive to the needs of the people. Do not dare to complain about conditions — political, economic, social — in this country unless you have taken the time to cast a ballot and speak your mind as should be allowed under the ever-diminishing U.S. Constitution.
As we are sleeping in our self-centered cocoons, our civil liberties and constitutional rights eroding before our eyes, and we have no one to blame but ourselves. We have the power to effect change; we simply choose not to use it. Yet we are arrogant enough to complain about the aftermath of our own indifference.
My mother used to say "clean your plate. There are starving children who would love to have what you have to eat."
Listen up, folks. There are people in the world who would love to shape their government but will never have that opportunity. The average American, it seems, would rather toss that chance away with yesterday's trash. We get what we deserve.