Despite repeated calls to CPD, streetwalkers still plague the New Providence community.
There seems to be a settled group of prostitutes practicing their trade in a small area of New Providence. They concentrate on the Walnut/Power Street intersection, Power Street as it runs along the rear of Vacation Motor Motel and the connecting alleyway between the Mapco and Shell convenience marts. Many citizen-residents have called the CPD to report the presence and activities of these women in these areas. The 9-1-1 logs are filled with reporting calls from area residents complaining about the situation. CPD dispatches police cruisers to the call, yet the women remain a blight on the community. Why?
It has been many years since our police department conducted a reverse prostitution sting operation. With so many complaints from community residents on file, the police cannot say they are unaware of the problem and the community's desire to be rid of this blight.
Why can't Clarksville police:
Install a crime-busting observation camera to videotape the area and use that evidence to prosecute offenders (both prostitutes and their "johns").
Utilize atypical unmarked cars to patrol the area. Most people suspect Crown-Victoria vehicles as police cars, so a new tactic (ordinary unmarked cars, undercover cops) must be employed.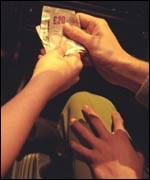 These lawbreakers do not limit their activities to nighttime hours. Numerous calls have been made about their daytime presence, and residents are not content with the police response thus far.
Any car traveling along Walnut or Power Streets is subject to being hailed, glared at or approached by these women, day and night. Potential clients who filter in are often also likely to want to buy drugs, an activity which the families in the neighborhood do not want nor encourage. People who do not live in the district drive to places like this New Providence neighborhood where they find prostitutes to fulfill their illicit pleasures, both carnal and pharmaceutical. In other words, they leave their nice homes and neighbors to go a places, maybe not so nice, to seek out sex and drugs.
Families populate this targeted neighborhood. Children of all ages are present, but no child should have to contend or be confronted by these types of activities. There is a church in the immediate vicinity, on Power Street, and most churchgoers certainly would prefer not to have to run such a gauntlet to get their house of worship.
Prostitution clients often park in unoccupied residential parking lots to conduct their interactions with these women. Apartment complexes and mobile home parks are impacted by the litter that results from prostitution's conclusion (discarded condoms). This further affects the innocent within the community in a negative way, spreading the blight of prostitution in ever widening circles.
Reverse prostitution stings have proven successful in ridding neighborhoods of people seeking illicit pleasures. The CPD hasn't conducted this type of campaign in at least 12 years. There seems to be a definite need for it in the New Providence area, Clarksville's own little "red light district." What will be done?
The prostitutes have made their play.
Citizen-residents have made their play.
"CPD, where are you?"
CPD, where are you?"