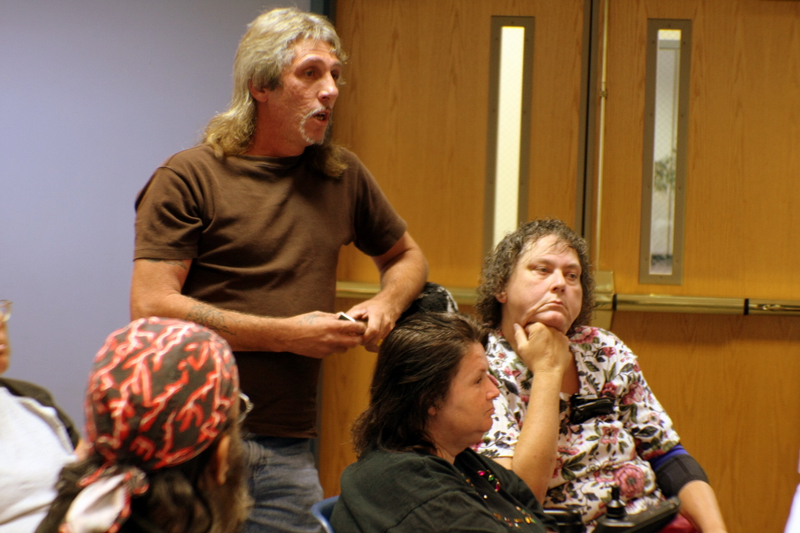 The City Council Transportation Committee will meet August 25 at at 4:00 p.m. in the City Hall Conference Room One Public Square, 4th Floor, to review adjustments made by CTS to the original budget including fare increases and route changes.
An August 11th Public hearing provided opportunity for give and take in confronting higher fuel costs and demands of public transportation needs. Citizens voiced their concerns and found sympathetic officials willing to hear them.
The Clarksville Transit System public hearing August 11 at the Public Library lwas a bright example of citizen outreach being given a receptive audience by public officials. The meeting was attended by about 50 CTS riders and supporters. Able-bodied and mobility-impaired alike were well represented in the attending gathering.
CTS Director Jimmy Smith (at right) chaired the meeting, which opened with discussion of the proposed new fare structure. Additionally, CTS staff members Arthur Bing-Operations Manager, Linda Travis-Operations Supervisor, and Elizabeth Black-Administrative Assistant were present, assisting Smith in answering questions during the course of the meeting. In opening, Smith noted that Nashville and Chattanooga have both eliminated the ride transfer ticket option due to higher operating costs. Since the introduction of its Day Pass, CTS has seen its own transfer purchases decline from twenty-eight percent to fifteen percent of daily revenue intake.
Fare Increases and Founding Sources
Review of the strong prior public response in the media and to the CTS administration itself about the proposed elimination of transfers has resulted in a rethink of that idea. Instead, an modest overall general fare increase has now been structured into the rate schedule. This option retains the transfer provision and was warmly received by the public. The restructure allows CTS to increase its revenue stream to offset the higher fuel expense it has suffered and still provide the publicly favored transfer ticket. Riders will see a fare increase but will not be hit with a doubling of their daily transportation costs as had been originally proposed.
Smith told the gathering that he favors and has advocated for a free public transit system but that simply is not in the cards. Smith said that with its population size, Clarksville has a 115 square mile transit serviceable area. CTS is operating 14 buses to service that area. Chattanooga has 128 square miles and runs 42 buses with its public transit system. Chattanooga has a higher population density than Clarksville and that, along with its larger population, gives it some advantages over us. Smith told the group that the city council, even in this tight budget year, had increased funding to CTS by forty-nine percent over last year's level. That additional $31,000 will allow CTS to purchase an additional bus to augment its rolling inventory. With the growth development along the Northeast/Tiny Town Road corridor and the new hospital on Dunlop Lane, ridership demands have increased and are only likely to continue to do so for the foreseeable future.
Citizens asked about increased funding sources, such as TDOT and the federal government. Smith responded that these entities had actually reduced their funding for mass transit support. With all the current talk about seeking fuel independence and increased fuel economy, there has been no mention of increased funding for public transportation in the public clamor and debate. Director Smith noted that, "public transportation is very green!"
Unlike Chattanooga, Clarksville does not have an advocate fighting for it in the halls of Washington D.C. Appeals to federal representatives could be very influential in garnering a stronger voice for more funding support for mass transit in Clarksville. State government representatives could also be prevailed upon to support increased funding for our community. Politicians pay attention to voters, not other lower level public officials. The riding public can greatly influence these officials to work to increase and support public transportation funding for our community. By contacting elected federal and state officials and expressing your concerns, "aggressive" voters have clount.
Service Areas Questioned
Questions about extending service into the county were raised. Essentially, the focus is to achieve a more complete level of service within the city boundaries before looking to county expansion. With limited dollars and restricted revenue sources, CTS must focus on city residents transportation needs as its first priority. Smith said that CTS needs to put more buses on the roads to properly meet the demands of the public. Sunday service and night service past nine o'clock are long-term goals of the system. However funding levels must grow dramatically before such options can become reality.
The continued growth of the city means CTS must continually re-evaluate its operational structure. The city's growth alters demands for its services. Bus service to the industrial park area has not proven to be a self-sustaining service operation. Several efforts have been tried but faced the same dilemma: once the ridership had secured a few paychecks via the bus service, they invariably brought their own personal transportation and abandoned the bus service. Firms in the industrial park,with their spacious parking lots, were not interested in providing a shuttle service to rendezvous with workers departing a CTS bus at the park entrance as a way to encourage public transit usage by their employees. The fact that the various industries do not have synchronized shifts further frustrated the concept of bus service to the park area. CTS is aware that minimum-wage workers need transportation beyond the start of the second shift and on Sundays. However it currently has no provisions within its means to address those needs.
New Routes
CTS has recently introduced bus service to the Gateway Medical Center on Dunlop Lane. It has detailed three buses to cover the route. The increased bus coverage was necessary because the route, which originally serviced the Governors Square Mall and eastern Wilma Rudolph Boulevard, has gone from a sixty minute run time to ninety minutes. Additionally, the Fort Campbell Boulevard route has been expanded to service the Great Escape/Northeast/Tiny Town Road corridor of the city. This service was achieved with the elimination of service to the Oak Grove Wal-Mart Center. Smith informed the citizens that while CTS does receive federal funds to provide service in Kentucky, that service is designated for Fort Campbell. The city of Oak Grove has never provided any funding to CTS to support the bus service in its community. Additionally, ridership from Durrett Plaza to the Supercenter was poor, despite the tax break offered by Kentucky's lower rate of sales tax. The new Tiny Town Road-Great Escape route was developed due to high demand response to CTS surveys.
Starting in September, CTS will provide the APSU campus with a student trolley transit service. The service will operate weekdays from 7:30 AM to 2:30 PM. In addition, APSU students will be able to ride off-campus CTS buses free through a contracting arrangement by the Student Government Association and CTS. Students, faculty and staff will present a special APSU pass to be able to use the services. APSU and CTS have signed a contract with an agreed price tag to cover the proposed costs of the service. Non-APSU personnel may ride the trolley at regular CTS fares.

Questions were asked about rumors of relocation of the transer center, currently on Legion Street. Smith admitted that there has been some discussion of that possibility. The Legion Street has grown too congested with the number of buses CTS now runs. A larger space will be necessary in the foreseeable future. Possible relocation sites are under study for development in the future. However, there are no plans to change the base operations center at this time.
The revisions garnered from the public hearing and comments submitted earlier will become part of a final presentation to the City Council Transportation Committee for approval. The public is invited to attend the committee meeting, which meets on the third Tuesday of the month. Smith said, that barring any further delays, approved changes should be effective by September 2nd.
Proposed Fare Schedule
| FARES | Current Fare | New Fare |
| --- | --- | --- |
| Full Fare | $1.00 | $1.25 |
| Senior Citizen | $0.50 | $0.60 |
| Disabled | $0.50 | $0.60 |
| Student | $0.75 | $0.90 |
| Transfer | $0.25 | $0.25 |
| Children Age 4 & Under | FREE | FREE |
| 10 Ride Ticket | $10.00 | $12.00 |
| 10 Ride Ticket (Senior) | $5.00 | $6.00 |
| 10 Ride Ticket (Disabled) | $5.00 | $6.00 |
| 31 Days Liberty Pass | $40.00 | $40.00 |
| 31 Days Liberty Pass (Senior) | $20.00 | $22.50 |
| 31 Days Liberty Pass (Disabled) | $20.00 | $22.50 |
| One Day Pass | $3.00 | $3.50 |
| Student Booklet | $7.50 | $9.00 |
| ParaTransit Fare | $2.00 | $2.50 |
| Lift Booklet | $20.00 | $25.00 |
| Job Access | $4.00 | $5.00 |
| One Ride Ticket | $1.00 | $1.25 |
| One Ride Ticket w/Transfer | $1.25 | $1.50 |