The 29th Annual Clarksville Mayor's Golf Classic will be held on Saturday and Sunday, September 13-14 at Swan Lake Golf Course. This popular golf event annually features one of the largest fields of amateur players in the area and is the last golf event of the year that offers points for the local Tournament of Champions.
The deadline to enter the tournament is noon, Thursday, September 11th. An entry fee of $100 earns the golfer two rounds of golf which includes a practice round at Swan Lake between September 8-12 (cost of cart not included in the practice round); lunch both days, and the opportunity to win cash and prizes. Entry forms are available at all local golf courses and pro shops, or at Clarksville City Hall, One Public Square. «Read the rest of this article»
As the Democratic Party's convention nears, results of "Listen to America" to shape party platform


Traditionally, every four years, the Democratic Party leadership meets in closed session and develops a platform for the next four years of national political focus. Senator Barack Obama wants to change that. He has proposed that, starting this year, the party draw input and ideas from the American people directly. To that end, several hundred local groups across the country participated in "brainstorming" events. The national leadership will formulate the new direction of the Democratic Party based on the priorities identified in the work product from the many local Obama Campaign "Listen to America" Committees across the nation.
Clarksville For Obama met recently to do its part in crafting this new national party platform. About 50 people converged at "Get Some Coffee" at the Great Escape Theater Complex along Trenton Road for Clarksville's "Listen to America" event. Jim Robertson and Tyrone Taylor, Clarksville for Obama and Tennessee for Obama members, respectively, co-chaired the event. The meeting objective was to choose five topic areas, brainstorm to finalize, prioritize and develop enactment of those particular interest proposals. Five brainstorming groups were formed to consider the specific topics. «Read the rest of this article»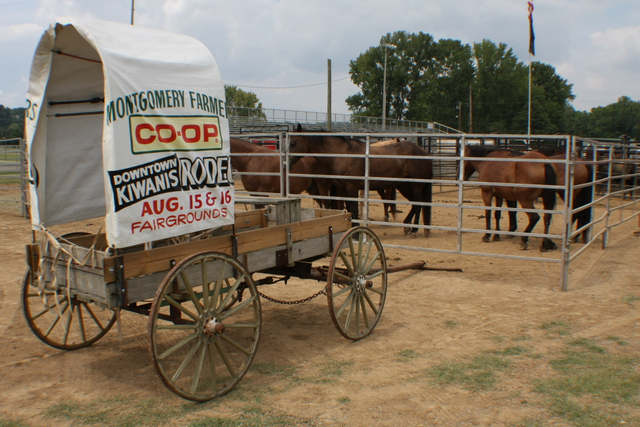 The Downtown Kiwanis Club is currently hosting its 24th annual rodeo at the Clarksville, Montgomery County Fairgrounds. The rodeo opened on Friday, August 15th, and will continue Saturday, August 16th, at 8pm.
Fans shouted and cheered for their favorite riders and favorite events.
If you have never been to the rodeo before, here is a sneak preview…
«Read the rest of this article»