A piece of American history is endangered.
The Delta Queen sailed into Clarksville Monday on what may be one its last journeys down the Cumberland, and all the other rivers she's traveled.
The Delta Queen is a grand lady and a legacy from our collective history. She is only remaining all-wood paddle-wheeled craft still sailing American waters with a complement of passengers scattered about, some opting to sit on the comfortable white rocking chairs on its decks. The Delta Queen looked and sounded like something in a classic Mark Twain novel. «Read the rest of this article»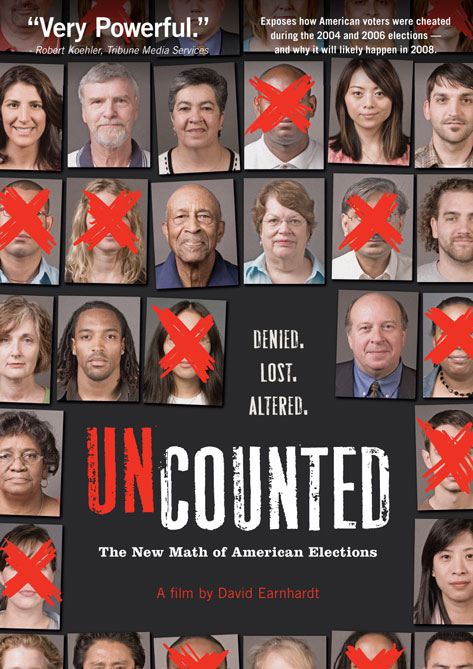 NASHVILLE, TN: For the last seven months, documentary filmmaker David Earnhardt has taken UNCOUNTED: The New Math of American Elections to more than 30 cities. During that time, he used the film as a grassroots tool to shed some much-needed light on the systemic problems inherent in our elections — including voting machines that render every vote unverifiable and un-auditable and Jim Crow-like intimidation tactics. The screenings have drawn thousands, awakening in viewers an urgent need to help fix our electoral system.
Now with a critical presidential election looming, UNCOUNTED will take the leap from grassroots organizing tool to mainstream wake-up call with a timely convergence of events that will expose its message to wider audience.
First, premium movie service provider Starz will present the world television premiere of UNCOUNTED on Starz Edge, Monday, August 25 at 10:30 p.m. (et/pt), and Starz Cinema on Thursday, August 28 at 10:00 P.M.
"As this is one of the most important elections in our nation's history, premiering this thought-provoking documentary is not only timely, but necessary viewing."
— Nancy Silverstone, Vice President of Program Acquisitions at Starz Entertainment.
Next, the distribution company, Disinformation, will release the documentary to retail outlets, including Amazon.com and Netflix, on Tuesday, August 26. «Read the rest of this article»
Montgomery County Democratic Party members were hard at work Monday moving into their Election 2008 headquarters on 534 Madison Street in downtown Clarksville (corner of University Boulevard and Madison Street). A ribbon-cutting ceremony and a "meet and greet" reception, open to the public, will be held tonight at 5 p.m., and refreshments will be served.
Gene Lewis, chairman of the MCDP, said that although the site is officially open, the "real work" will begin as the Democratic Convention winds down. "Once the convention is over, we hit the ground running," Lewis said. «Read the rest of this article»
Local ministry effort confronts HIV/AIDS pandemic. Offers general health advisories and assistance to those suffering from the disease.
Five years ago, a meeting of local area ministers resulted in the founding of the Clarksville Area Ministers Technical Assistance Network, CAMTAN. A non-profit group organized to provide mental, physical, and spiritual assistance to those confronting an HIV/AIDS infection. CAMTAN also seeks to provide capacity building faith-based responses to HIV/AIDS. The organization furthers seeks to combat this disease with a prevention education outreach campaign as well.
Dispelling the vast amount of misinformation and simply false data about this disease that is circulating within the community takes a considerable amount their time. CAMTAN's client service area includes the city of Clarksville; Montgomery, Robertson, Chetham, Dickson, Stewart, Houston and Humphreys Counties. Clarksville is the central operation base.
«Read the rest of this article»