Historic Tuskegee aviation pioneers lose a heralded member. "A-Train" Dryden takes his final flight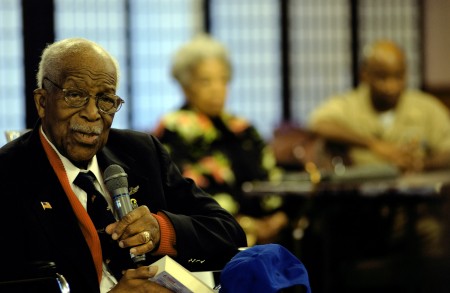 Lt. Colonel Charles W. Dryden (USAF-Retired) died June 24 after a brief illness. He would have been 88 years old in September. As reported in Nashville's The Tennessee Tribrune, Colonel Dryden and his bride of 32 years, Marynal Morgan Dryden, never stopped living life to the fullest.
Funeral services held on July 1 celebrated his life. The services were held at Cascade United Methodist Church in Atlanta. He lay in state from 9 to 10:30 AM that morning. He was eulogized the Reverend Andrew Young, former Mayor of Atlanta and former U.S. Ambassador to the United Nations.
He was born Charles Walter Dryden on September 16, 1920 to Jamaican parents Charles Levy Dryden and Violet Buckley Dryden. Dryden recalls in his book, A-Train: Memoirs of a Tuskegee Airman, how at two years of age, he would call call out, "Air'pwane! Airpwane! and tearing paper into bits and throwing them into the air to tell the world he wanted to fly airplanes." After many setbacks and tribulations, he did fly airplanes, living out his dream. Then he lived to write about living out that dream, and later, with a renaissance of his career, enjoyed the celebrity his stellar career afforded him.
Following graduation from NYC's Peter Stuyvesant High School, he earned a BA in Political Science from Hofstra University and later earned a MA in Public Law and Government from Columbia University. In August, 1941 he was selected for Aviation Cadet Training at the Tuskegee Army Flying School in Alabama. He was commissioned as a 2nd Lt on April 29, 1942 in a class of only three graduates. His was the second class of black pilots to graduate in the history of the U.S. Army Air Corps. He served in the famed 99th Pursuit Squadron, later the 332 Fighter Group, which served in North Africa, Sicily and Italy during World War II. The Tuskegee Airmen broke the Army's ban against black pilots serving in aviation units and established an outstanding record of performance in bomber escort cover and combat during World War II. On June 9, 1943, then Lt. Dryden in his P-40 nicknamed "A-Train" led a fight of six pilots engaging enemy fighter aircraft in aerial combat over Pantelleria, Sicily. It was the first time in aviation history black pilots of the U.S. Army Air Corp engaged in combat. Dryden's career covered 22 years and also included combat missions in Korea, duty assignments in Japan, Germany and ten different bases in the United States. He also served as an Air Science professor at Howard University and retired in 1962 as a Command pilot with 4,000 hours flying time.
He was on the board of directors of the Georgia Aviation Hall of Fame, a member of the Atlanta Metro Lions Club, and Quality Living Services, the Atlanta Chapter-Tuskegee Airmen, Inc.. He helped found the Atlanta chapter in 1978, served as president, and twice as vice and national convention chairman in 1980 and 1995. He was inducted into the Honorable Orders of the Daedalians, the Kentucky Colonels and the Palmetto Gentlemen of South Carolin, the Georgia Aviation Hall of Fame. In March 2007, President Bush conferred the Congressional Gold Medal on Lt. Col. Dryden and all Tuskegee Airmen. He was often a speaker to youth and college students encouraging them to seek careers in military and civilian aviation.
In lieu of flowers, the family requests that contributions be made to the Atlanta Chapter Tuskegee Airmen, Inc. Lt. Col. Charles "A-Train" Dryden Education Award Fund, Contact Floyd Stanfield, at 404-217-6393 or Quality Living Services- contact Irene Richardson at 404-699-1686.
Details for this story extracted from 'The Tennessee Tribune'