ICA promotes its free chiropractic service to military personnel returning from Iraq and Afghanistan. Seeks to augment limited medical services available to returning military service members.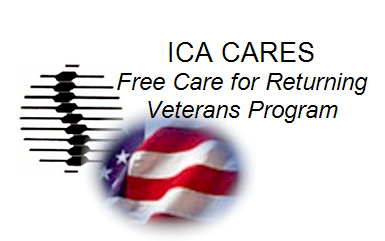 The International Chiropractic Association has announced a program of service targeting U.S. military service members returning from Iraq and Afghanistan. The organization recognizes that the current military heath care system has not successfully met the challenging needs of this new batch of combat veterans. The intricacies of post traumatic stress disorder has placed new demands on the medial care system unseen in past conflicts. ICA's Southern Regional Director Dr. R. J. Kelly developed the concept having initiated such a program in his own personal practice, with very positive results veterans.
From the ICA's press release:
"Tens of thousands of US military personnel are being rotated back to the US, many to civilian life, and others to stateside deployment. All have been subjected to exceptional strain, with a new pattern of injury and trauma. Regrettably, the care those returning veterans have been receiving through official channels has not always been adequate. In some instances, it has been the subject of scathing criticism. Whatever the situation for returning veterans, they need help and support from the community, including the chiropractic community. The impact of war on the human body and soul has been given much serious consideration over the years by chiropractic leaders. ICA believes that through the power of a chiropractic adjustment, chiropractic offers a unique asset, as returning veterans strive to recover and restore their lives physically, mentally, emotionally and spiritually.

"Right now there are literally thousands in our country that are offering an even greater gift… their lives. Our military, our returning veterans, whether visibly wounded or free of outward symptoms, are coming home changed, and need our help as chiropractors." — R.J. Kelly
"ICA has been in contact with various veterans' organizations and service groups and is developing a protocol for this new program, as well as developing lines of communication to make sure that as many veterans as possible know that this initiative is up and running, and how to find a participating doctor of chiropractic in their area. We want to help volunteer doctors reach out to the returning veteran population in a spirit of service in the most clinically sound, ethically based and timely manner possible." — Robert N. Pothos, ICA Executive Director

ICA has posted an initial roster of participating doctors of chiropractic on the ICA website at www.chiropractic.org and will update this resource directory as additional doctors join the volunteer ranks.
Veterans, active duty personnel, family members and friends are encouraged to visit the website and check for doctors in their area and share that information with their service member.