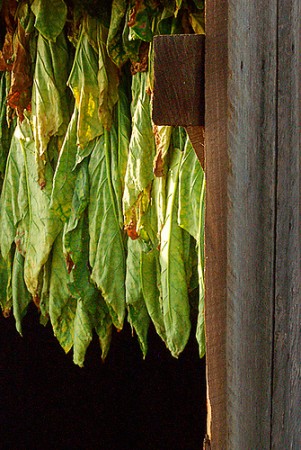 Here in Montgomery County, our tiny community has a special signal of sorts they send out for the arrival of Autumn. I like to think of it like this:
About every mile and a half here in this area you will find a tobacco barn. Tobacco is the largest seasonal crop here, other than soybeans. So you figure the Farmers being outside all summer, working with the earth, would naturally be the first to sense the changing of the season. What these farmers here do is, about early September, they go into their tobacco barns and dig a little hole in the earth, start a small fire: the smoke rises up through the barn, through their tobacco crop that has been cut and is drying out, and travels up into the sky. Well, if you've ever seen a tobacco barn smoking you'd know you can smell it for miles before you see it! Then the next farmer on down the road receives the message, if you will, and does the same in his barn, and so on and so on. Before long, every area within a ten mile radius of this place is perfumed with the smell of cut tobacco. This smell is comparable to a pep rally bonfire, or a warm log on the fire in winter, only much richer.
Now I am not a smoker, nor do I plan on becoming one, but I will tell you there is nothing like the smell of waking up first thing in the morning to a crisp cool breeze and what we here in the Red River Community think of as the sweet smell of Autumn!
Just now while looking out my kitchen window, I saw the second load of tobacco leaves being hauled down the road to the nearest barn to begin the firing process.
I will begin preparing my outside sanctuary for the Fall arrival of me with my morning cup of coffee.
Load 'em up boys!