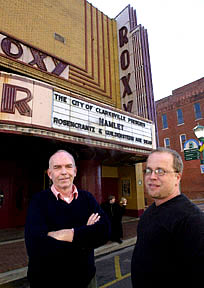 The Roxy Regional Theatre's 26th Season will enrich all the senses!
Although the 2008-09 season opens September 19, the annual gala is slated from September 20. The first play to hit the stage: The Robber Bridegroom, book and Lyrics by Alfred Uhry, music by Robert Waldman, adapted from the novella by Eudora Welty.
One of the only genuine bluegrass scores ever heard in a Broadway musical, this unusual tale of the Natchez Trace has a distinctive sound all its own. The Robber Bridegroom is the story of the courting of Rosamund, the only daughter of the richest planter in the country, by Jamie Lockhart, a rascally robber of the woods. The proceedings go awry, thanks to an unconventional case of double-mistaken identity. Throw in an evil stepmother intent on Rosamund's demise, her pea-brained henchman and a hostile talking head-in-a-trunk, and you have the recipe for a rollicking country romp. Play dates are September 19, through October11.
Then, for one week only, the Roxy presents
The Last Five Years
, words and music by Jason Robert Brown. It's a contemporary song-cycle musical that ingeniously chronicles the five year life of a marriage, from meeting to break-up… or from break-up to meeting, depending on how you look at it. The Last Five Years is an intensely personal look at the relationship between a writer and an actress told from both points of view.
The Last Five Years
manages to reinvent the familiar musical formula and offers up one of the brightest, freshest scores of the new century. Roxy fans have one only to see The Last Five Years, which will be staged October 15-18.
The C.S. Lewis classic, 2pm October, The Lion, The Witch and The Wardrobe, dramatized by le Clanche de Rand, is the heroic tale of love, faith, courage and giving: the life and death struggle for control of Narnia and the grandeur of the triumph of good over evil has enthralled audiences of all ages. This innovative treatment features two actors and is available for touring to all groups. It runs October 4 and 11.
Arthur Miller's The Crucible continues the season. A compelling drama of paranoia and superstition, The Crucible is set in 1692, in a small American town, a group of mischievous girls are caught dancing in the woods, while conjuring spirits. To escape punishment they accuse others of witchcraft. Husbands, wives, sons, daughters, neighbors and friends are forced to sentence the accused or risk being accused themselves. This magnificent work continues to resonate and is as relevant today as when it was first produced. The show runs October 25 through November 15.
On October 31, at 6 p.m., it's a halloween mixes of sci-fi horror and history in the recreation of H.G. Wells classic radio play, The War of the Worlds, in its "Other Place" theater, upstairs at the Roxy. An example of mass hysteria, this staged reading of the infamous Mercury Theatre 1938 radio broadcast is one of the earliest and best-known depictions of an alien invasion of Earth and caused public outcry as many listeners believed that an actual Martian invasion was in progress.
An older classic emerges in time for the holidays; an adaptation for the stage by Artistic Director John McDonald of the Charles Dickens favorite, A Christmas Carol. This rollicking holiday morsel will sweeten your taste buds and warm even the hardest of hearts. Ebenezer Scrooge meets the spirits of Christmas while rediscovering its true meaning. A Christmas Carol runs November 28 through December 20.
In January, 2009, Eve Ensler's The Vagina Monologues makes it annual appearance in The Other Space. Spread the word! They're back for the seventh year! This touching, often hilarious series of monologues about women and performed by women has played to packed houses around the country. It runs January 9-31.
A midwinter delight for children of all ages is the Roxy rendition of Pinnochio, adapted by John McDonald from the story by Carlo Collodi. Geppetto carves a puppet named Pinocchio! However, he must earn the right to be a real boy by proving that he is brave, truthful, and unselfish. Joining the Cat and the Fox on a hilarious journey, learning life lessons along the way, he risks his own life to save Geppetto, who has been swallowed by a whale! Three matinees performances, Janury 17, 24, 31.
Music returns with Altar Boyz, book by Kevin Del Aguila, music and lyrics by Gary Adler and Michael Patrick Walker. Altar Boyz is a foot-stomping, rafter-raising, musical comedy about a fictitious Christian boy-band on the last night of their national "Raise the Praise" tour. The Boyz are five all-singing, all-dancing heartthrobs from Ohio: Matthew, Mark, Luke, Juan and Abraham. As they perform their signature hits such as "Rhythm In Me," "The Calling," and "I Believe," the Boyz question their loyalty to each other and ask whether or not faith is really holding them together. They finally deliver a message of unity, that "there is no star as bright as its constellation, no harmony in a single voice." This production runs February 6 -28.
Drama steps on stage in March in the form of William Shakespeare's classic, MacBeth. An anatomy of the relationship between ambition and corruption, Macbeth is one of Shakespeare's most bloody and fear-filled tragedies. Often regarded as archetypal, the play tells of the dangers of the lust for power and the betrayal of friends. Based loosely on the historical account of King Macbeth of Scotland many superstitions are centered on the belief the play is "cursed", referring to it instead as "The Scottish play". The show runs March 6-14.
The world premiere of All Quiet On The Western Front, adapted for the stage by John McDonald from the novel by Erich Maria Remarque, gives us the story of a young soldier facing profound disillusionment in the soul-destroying horror of World War I. First published in German in 1929, it sold 2.5 million copies in twenty-five languages in its first eighteen months in print. In 1930 the book was turned into an Oscar-winning movie of the same name. Now in these uncertain times of war All Quiet on the Western Front will speak to a new generation from the stage. This show plays from March 20-28.
Andrew Lloyd Webber's hit musical, CATS, based on Old Possum's Book Of Practical Cats and the poetry of T.S. Elliot, tells the story, in song and dance, of the annual gathering of Jellicle cats at which time one special cat is selected to ascend to the Heaviside layer. A true musical theatre phenomenon, featuring the classic "Memory," CATS opened in London on May 11, 1981 and ran for a record-setting 21 years and was nearly matched on Broadway where it ran for just over 18 years.This musical runs April 10 through May 2.
The second children's production, Honk!, based on the Ugly Duckling by George Stiles and Anthony Drewe, is the story of Ugly, whose odd, gawky looks instantly incite prejudice from his family and neighbors. Separated from the farm and pursued by a hungry Cat, Ugly must find his way home. Along his rollicking and harrowing journey he not only discovers his true beauty and glorious destiny, but also finds love and acceptance in all its forms. Witty and hilarious, but also deeply moving, Honk!(s) charm, humor and message of tolerance is perfect for a family audience … and every audience. This one runs May 9,16,23.
Disney's Cinderella Jr. blends timeless fairy tale with the magic of Disney in this adaptation of the treasured animated film. Poor Cinderella is endlessly mistreated by her wicked stepmother and stepsisters, and denied a chance to go to the Royal Ball. With a little help from her mice friends, and a lot of help from her Fairy Godmother, Cinderella goes to the ball, meets the Prince, and falls in love! With a beautiful score including "A Dream Is a Wish Your Heart Makes" and the classic "Bibbidi-Bobbidi-Boo," this musical will charm its way into your heart, and remind you that dreams really can come true. this production is presented by The Roxy Regional School of the Arts. Book adapted by Marcy Heisler; lyrics by Al Hoffman, Jerry Livingston and Mack David; music adapted and arranged by Bryan Louiselle; music by Al Hoffman, Jerry Livingston and Mack David. The fairy tales plays May 26 through June 13.
The Andrews Brothers, a new play by Roger Bean Mistaken identities, madcap comedy and the greatest music of the 1940's fill this hilarious new musical. Three soldiers find themselves giving the performance of a lifetime when a certain singing trio of siblings fail to arrive at the USO gig. "Boogie Woogie Bugle Boy", "Slow Boat to China", "Shoo Shoo Boy", "Stuff Like That There", and "Don't Sit Under the Apple Tree" are but a few of the favorites in this valentine to the heroes of World War II. It runs June 12-27.
Walt Disney's Mulan, Jr., travel back to the legendary, story-telling days of ancient China with this action-packed stage adaptation of Disney's Mulan. The Huns have invaded, and it is up to the misfit Mulan and her mischievous sidekick Mushu to save the Emperor! Including favorites like "Reflection," "Honor to Us All," "I'll Make a Man Out of You" as well as new songs that will get your audience up on its feet, Mulan JR. is a heartwarming celebration of culture, honor and a fighting spirit. (Presented by The Roxy School of the Arts) It runs June 19-July 3. Based on the 1998 Disney film MULAN and the story FA MULAN by Robert D. San Souci.
Once again the Roxy will end its season with a blockbuster musical, RENT!. Jonathan Larson's rock musical is the joyous, breathtaking and inspiring story of a group of New York City East Village artists struggling to find their voices and find love in today's tough times. Based on Giacomo Puccini's classic 1896 opera, La Boheme, Rent broaches controversial themes like homelessness, AIDS and drug addiction with compassion, and thrills audiences of all ages with its moving tale of hopes and dreams. The show runs July 10 through August 22. RENT! Book, music and lyrics by Jonathan Larson.
For ticket information and reservations, call the Roxy box office at 931-645-7699 or visit the box office on Franklin Street from 9-12 a.m.  Musicals are $20.00 adults, $15.00 13 and under. Plays are $15.00 adults, $10.00 13 and under. Jr. Musicals  and Other Space tickets are $10.