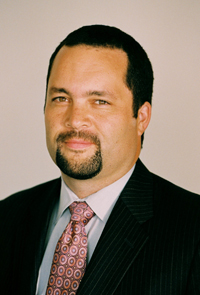 Benjamin Todd Jealous is president-elect of the NAACP, the nations oldest civil rights organization. When he assumes office in September 2008, the former news executive, activist and Rhodes scholar will be the youngest president and CEO in the organization's 99-year history.
Currently, Jealous is President of the Rosenberg Foundation, a private independent institution that supports advocacy efforts on behalf of California's working families. Under his leadership, the Foundation has significantly expanded its support of groups working to expand employment opportunities for formerly incarcerated people, as well as those that work to make economic development in the Bay Area more accountable to local residents' needs.
Previously, Jealous served as Director of the U.S. Human Rights Program at Amnesty International. While at Amnesty, he led its efforts to pass federal legislation against prison rape, rebuild public consensus against racial profiling in the wake of the September 2001 terrorist attacks, and expose the widespread sentencing of children to life without the possibility of parole.
He is the lead author of the 2004 report Threat and Humiliation: Racial Profiling, Domestic Security, and Human Rights in the United States, the release of which received coverage by major media outlets in most states and on six continents.
Jealous, whose parents have been civil rights activists since the 1950s, organized his first voter registration drive at age 14. At age 18, he began working for the NAACP Legal Defense Fund as a community organizer in Harlem.
At age 21, Jealous moved to Mississippi to work as a field organizer as part of a successful campaign to stop the state's plan to close two of its three public historically black universities, and convert one of them into a prison. During that time, he took a job at the Mississippi's Jackson Advocate newspaper investigating human rights abuses. His reporting for the frequently firebombed weekly paper was credited with exposing corruption amongst high-ranking officials at the state prison in Parchman. His investigations also helped to acquit a black small farmer who had been wrongfully and maliciously accused of arson.
He soon became Managing Editor at the Advocate, and eventually went on to serve as Executive Director of the National Newspaper Publishers Association (NNPA), a federation of more than 200 black community newspapers. While at the NNPA, he rebuilt its 90-year old national news service and launched a web-based initiative that more than doubled the number of black newspapers publishing online.
Active in civic life, Jealous is a board member of the California Council for the Humanities, PowerPAC, the Association of Black Foundation Executives, and a member of the Asia Society. He holds a bachelor's degree in political science from Columbia University and a master's degree in comparative social research from Oxford University where he was a Rhodes Scholar. He is married to Lia Epperson Jealous, a professor of constitutional law and former civil rights litigator with the NAACP Legal Defense and Educational Fund. They presently reside in Alameda, CA with their two-year old daughter, Morgan.