Loaves and Fishes, which serves free meals to 150-200 people a day, six days a week, held its annual fundraiser Saturday evening, offering the community a Louisiana Cajun meal that included Cajun rice, gumbo, beans, jambalaya  and breads, with pecan prawlines for dessert. Admission was $10 per person for the event, which ran from 4-7 p.m.
Volunteers garbed in bright purple Loaves and Fishes T-Shirts, decorated the hall on Third Street, and were ready to serve the food that had been "in preparation" for hours.
Susan Chapman, director of the non-profit Loaves and Fishes, said the event "gets better and better each year." Raising funds is critical to the organization's success, since "we have had over 200 people to feed on some days," Chapman added.  The group exists on a mix of grants, public donations and support from local churches and other organizations. «Read the rest of this article»
Earlier this week while at Kroger I noticed some baby lotion in the clearance bend from Earth's Best Organics. Since this was already a brand I use with Elle-girl's foods, I thought I would try it. I've loved it! It's true lavender, and smells yummy, and it goes on so smooth, unlike other thick lotions. Elle-girl, who has always hated getting rubbed down with lotion, also seemed to love it. She lays very still while I apply the lotion before bed, then she carries the bottle around the house during the day. I started to notice as she carried it around she would sing the Elmo song that she learns on Sesame St.
If you haven't figured it out yet, we love Sesame Street and Elle-girl loves Elmo! National Public Television offers many great programs for Adults as well as children 24hrs a day. NPR boasts of being viewer sponsored and therefore they do not buy into selling lots of products through commercials on their station. As a parent, I appreciate that. «Read the rest of this article»
It's not over 'til it's over. And the controversial Kurita/Barnes campaign for a seat in the Tennessee Senate is definitely not over.
Incumbent Senator Rosalind Kurita defeated challenger Atty. Tim Barnes by a mere 19 votes in the August primary, a win that was almost immediately contested by Barnes and his supporters. That win came on the heels of a controversial eleventh hour campaign play that put bold over-sized color postcards depicting Barnes, whose practice focuses on family law and adoption, as an attorney who defends drunk drivers and abusers.
The eleventh hour negative ad campaign incurred the wrath of 38 area attorneys who countered with their own election day ad and strong statement in defense of Barnes and of the right of every American to a defense, and about the "true" nature of Barnes' legal practice. «Read the rest of this article»
The recent Tennessee State University's Summer Stock Theatre staging of the Shakespeare classic further reinforces the timeless appeal of this classic love tragedy. The classic young love tragedy, given an urban setting, reflects strongly upon the reality of the modern day urban upheaval.
The tenderness and angst of a love forbidden is the central focus of William Shakespeare's classic, Romeo and Juliet. The 2008 summer stock production staged at Tennessee State University was a brilliant jewel of a production. Directed by Barry Scott, a renowned stage performer in his own right, the staging gives the play a new flesh to fill. The young cast of newcomers and unknowns acquaints itself well in a production that keeps Shakespeare's original language and feel alive and vibrant. The dynamics of the play flow evenly and smoothly through out the performance.
But this production did offer something different. This time, the locale was not the standard Elizabethan Italian village setting. Director Scott, in a daring move, chose to transpose the setting to one of Nashville's older troubled public housing communities. Additionally, daggers and swords were replaced with stage versions of handguns and automatic rifles. Costuming reflected urban street fashion instead of flowing gowns and bustiers. Strumming minstrels were replaced with modern day music. These changes, however, do not distract from the central focus of the play. Quite to the contrary, they serve to enhance the performance. «Read the rest of this article»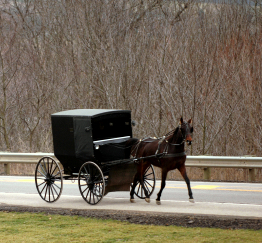 The ACLU is well-known throughout the nation but is frequently denounced by people who do not understand their mission. This organization is dedicated to the Constitution of the United States. For the ACLU, the Constitution is sacred, hallowed, and consecrated.
The ACLU focus is protecting the rights of individuals, whether they be in the minority or the majority. The ACLU shields citizens from abuse directed to minority groups. The are dedicated to defending, speaking up, and representing groups and individuals in court when said groups or individuals are threatened with loss of their constitutional rights.
An example of this singular purpose can be found in the neighboring state of Kentucky, as reported by the Associated Press. One recent headline, "ACLU to defend Amish on buggy light charges," demonstrates ACLU involvement. In that article, distributed by Associated Press, the ACLU "will defend a group of Amish men in Kentucky charged with not displaying slow moving emblems on their horse-drawn buggies." «Read the rest of this article»