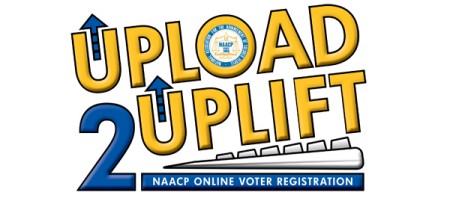 In his first week as National President of the  NAACP, and with only seven weeks to go until Election Day, Benjamin Todd Jealous has hit the ground running with a message stressing the need to register every possible voter.
"While unprecedented numbers of African Americans voted in this year's primary elections, there are still an estimated eight million unregistered. That's just too many" Jealous said.
This week the NAACP launched Upload to Uplift, the NAACP's new Online Voter Registration Initiative to leverage the powerful, viral effect of the Internet. The registration tool, available at www.naacp.org, allows visitors to register and/or upload the email addresses from their address books in any major email program, like Gmail, Yahoo, Hotmail and others, directly into the online registration system. No one else will contact your friends and family and the information will be completely confidential.
Those contacts then receive a personal and customized email from you, reminding them to register to vote and letting them know just how easy it is to use the online registration tool. They'll also receive an Election Day reminders to go to the polls.
If you've got a web site or blog you can download the voter registration widget to display on your enabling even more people registered to vote. Just click the button on the right to get the widget.
If you haven't registered to vote yet, get registered now. If you're already registered, go one step further. Uploading your contacts only takes a few seconds to do, but it can have an important impact on this and future elections.
Early voting in Montgomery County will run from October 15-30, with general election on November 4. Those wishing to vote in the November Presidential Election must register to vote by October 6.