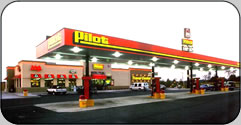 For those trying to beat the high price of gas, a trip just over the state line to Kentucky may be worth its weight in pennies. While a few stations in Clarksville have dropped below that $4+ benchmark, we still saw many stations in the range of  $4.15 a gallon.
In the course of Clarksville Online travels Saturday, we ended up at the Oak Grove Pilot Station off I-24, where a tangled maze of drivers jockeyed for positions at the pumping stations.
Why? $3.59 a gallon for regular unleaded (as of 4 p.m. Saturday). We joined the fray, easing into a spot and filling up. At 50 cents a gallon less than the city's rate, and with less than half a tank registering on the gas gauge, it only made sense to fill up, to top off, since we were right there.
Clarksville Online has constantly kept our eyes on the painful price of gas, and Pilot Travel Center was definitely the pick of the day if you had to gas up.
The Travel Center is located at 8190 Pembroke-Oak Grove Road, Oak Grove, KY immediately off Interstate 1-95. By logging onto the Pilot website, you can confirm gas prices before you travel. (this price was still posted at 7 p.m.).
As I contemplate the price, I can't help but be amazed at paying $3.59 a gallon; a year ago that price would have been shocking. Times change.