In celebration of Banned Books Week, Clarksville Online will offer our readers articles, and Best Books lists — yes, lists — of the best in literature for both adults and children.  Have you read a banned Book? We hope so!
Apart from J.K. Rowling's Harry Potter phenomenon, the most challenged books of the 21st century (2000-2005) include a number of books taught as classic and "relevant" books in terms of content and history.
In celebrating Banned Books Week (September 23-30, 2006), the American Library Association (ALA) compiled the top 10 most challenged books from 2000-2005, with the Harry Potter series of books leading the pack. The 10 most challenged books of the 21st Century (2000-2005) are:
Harry Potter series by J.K. Rowling
"The Chocolate War" by Robert Cormier
Alice series by Phyllis Reynolds Naylor
"Of Mice and Men" by John Steinbeck
"I Know Why the Caged Bird Sings" by Maya Angelou
"Fallen Angels" by Walter Dean Myers
"It's Perfectly Normal" by Robie Harris
Scary Stories series by Alvin Schwartz
Captain Underpants series by Dav Pilkey
"Forever" by Judy Blume «Read the rest of this article»
Guest Commentator Dennis Kucinich, D-Ohio, offers a plan to save "Main Street."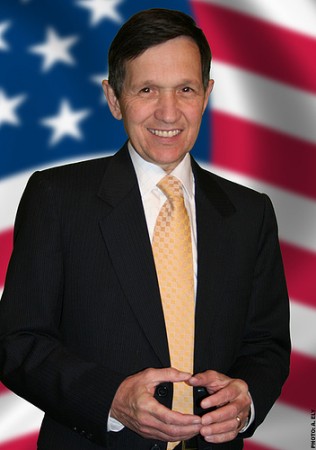 While Wall Street and the Bush Administration try to blackmail Congress into a $700 billion bailout for corporations that have shown zero concern about the plight of the American people through the last decade, I have been working on a comprehensive alternative. Today, I am releasing a plan for economic recovery that will provide not only economic stimulus, but also fairness for everyday people on every "Main Street" in America. The plan  detailed will also be available on the campaign website www.kucinich.us.
Of course, this is a plan that has not only economic implications, but also moral and spiritual implications as well. The social, economic, and political divisions in our nation must be healed.  We can make a new beginning, seizing this moment of crisis and transforming it into a moment of rebirth for our nation. «Read the rest of this article»
Iph…, a new adaptation of Euripides' Iphigeneia at Aulis by Irish playwright Colin Teevan,will be staged at Austin Peay State University October 1-4 at 7:30 p.m. and October 5 at 2:00 p.m.
Agamemnon, the great warrior general, leads the Greek army to war in Troy.  On their journey, they arrive at the island of Aulis to rest and prepare for the battle.  However, the wind ceases to blow, paralyzing their ships and trapping them on the island.  The goddess Artemis, angered by the Greeks' lack of respect, has punished the entire army and demands from Agamemnon a sacrifice – his daughter, Iphigeneia.  Now Agamemnon must decide between his love for his family and his duty to his country, while his wife, Klytaemnestra, must battle for the life of her daughter.  Caught between these two powerful forces stands the innocent, good-hearted Iphigeneia – a young girl faced with making the ultimate sacrifice for the greater good of her people. «Read the rest of this article»
Spare the rod, spoil the child? It's an axiom many of us grew up with. It's in the news again, though, sparking controversy over the application of corporal discipline to children by school teachers and administrators.
Nearly half of our states, including Tennessee, still allow and use corporal punishment in schools. Tennessee is among thirteen states reportedly using corporal punishment "frequently," according to the Office for Civil Rights at the U.S. Department of Education. The group said Wednesday that some 200,000 children were subjected to this practice (spanking or paddling) in the 2007-08 school year.
Surprised? Many people were. Angry? Even more people were.
In the 125-page report, "A Violent Education: Corporal Punishment of Children in U.S. Public Schools," the ACLU and Human Rights Watch found that in Texas and Mississippi children ranging in age from 3 to 19 years old are routinely physically punished for minor infractions such as chewing gum, talking back to a teacher, or violating the dress code, as well as for more serious transgressions such as fighting. Corporal punishment, legal in 21 states, typically takes the form of "paddling," during which an administrator or teacher hits a child repeatedly on the buttocks with a long wooden board. The report shows that, as a result of paddling, many children are left injured, degraded, and disengaged from school. «Read the rest of this article»
In response to John McCain's decision to return to suspend campaigning and return to Washington, his request to postponed the scheduled Sept. 26 debate in Oxford, Mississippi, and in response to the fiscal crisis and a proposed $700 million bail out, Senator Barack Obama spoke out on the issues at a Press Conference Wednesday afternoon. We offer our readers a replay of Obama's statement.
https://www.youtube.com/watch?v=h9PGP3m2hSo