A large crowd of enthusiastic supporters gathered on October 2 for the grand opening of the new headquarters for Senator Kurita's campaign to fight for her seat in Tennessee's 22nd district.  Despite Kurita's winning the primary, the Democratic Party reversed the voters decision and awarded the victory to her opponent, Atty. Tim Barnes.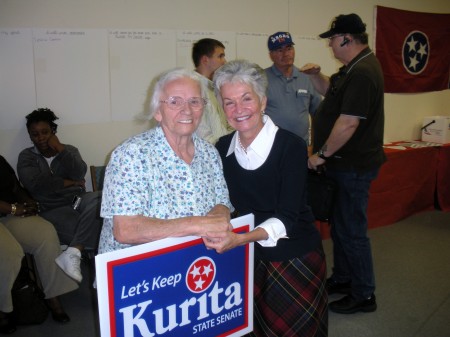 This unprecedented decision prompted Kurita to support her constituents by beginning a write-in campaign.  Are her supporters willing to go to the extra effort of typing in her name, K-U-R-I-T-A, on the voting machines in November? As with Senator Obama, the Democratic Presidential candidate, Senator Kurita welcomes votes from all Democrats, Republicans, and Independents who feel she will be the best candidate for the job. Her campaign slogan is "In America, we don't steal elections."
How To Write In a Vote for State Senate District 22 in Montgomery County for Senator Rosalind Kurita:
You will cast your vote for President, U.S. Senator, U.S. Representative and then State Senator. You will see Tim Barnes name as the Democratic nominee. Directly under his name you will see WRITE IN. Push the button beside WRITE IN.
The screen will change and the letters of the alphabet (A-Z) will appear. Place an X beside each letter: K – U – R – I – T – A . You will see KURITA spelled out in the middle of the screen.
Once you have typed KURITA just press the done button at the bottom to accept and return to the former screen.
You should now see Kurita with an X beside it underneath Tim Barnes name on the ballot. You can now continue on with the remainder of the ballot.
Remember – you can always ask an election worker to help you with this process.
Montgomery County Headquarters: 1817A Madison Street , Suite 5, Clarksville, 931-542-9912
Cheatham County: 108 Frey Street, Ashland City, 615-792-1659
Houston County: 18 Court Square, Erin, 931-289-5255
Editor's note: Monday, October 6, is the last day to register to vote in the November 4 Presidential election. Early voting begins October 15 and runs through October 30.