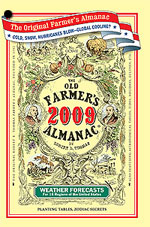 Every year, every day since 1792, through blizzards as well as balmy days, The Old Farmer's Almanac has had one purpose: to be useful with a pleasant degree of humor. The 2009 edition is no exception. When the news of the moment has faded like the afternoon sun, the Almanac is there to brighten the days of its readers.
"Our readers think of the Almanac as a reliable friend that they can turn to for advice, novel ideas, and a clever, witty, or amusing item," says Janice Stillman, editor of The Old Farmer's Almanac. "These days, countless distractions compete for people's thoughts and time, and information sources abound. The benefit of the Almanac is that it can be enjoyed both today, in the moment, and in the weeks and months to come. In fact, it's the one book you can read all year long!"
The 2009 Old Farmer's Almanac features all-new stories guaranteed to be fun and factual, interesting and entertaining. Here are a few highlights: "Tastes and Trends": This comprehensive and colorful section reports on and forecasts fashions, food, hobbies, home amenities, farm and garden interests, collector markets, and more for the year, with comments from experts.
"Is Global Warming on the Wane?": Convincing evidence suggests that an extreme cooling period is imminent or already under way. Don't miss this chilling account!
"About Trout": Going fishing? Take along these handy hints for catching and cooking some beauties.
"Foot Notes": Got tender feet? Is your arch your enemy? Are you a pronator or a supinator? Here is where you can find your best footing and sample a few pedi-cures.
"Directions from the Dark Side": Your dreams are trying to tell you something! Learn how to capture, decode, and benefit from the symbols, settings, and situations that play in your mind at night.
"Butterflies for Free": Monarch butterflies love milkweed and so should you. Having this plant in your garden practically ensures that a flutter will follow.
"How to Live to Be 100 or More": Life expectancy may be at its highest point ever, but why leave your longevity to chance? Take this advice from centenarians.
"Tomato Love": Meet a man who annually harvests 4,000 pounds of heirloom tomatoes,  from his own one-acre garden and learn how to grow a ton-or just a few pounds-of your own.
While the Almanac is known for its garden, home, food, and feature stories, everybody is interested in the weather.
"Brides, city managers, business owners, event planners, farmers-people from all walks of life-use the Almanac every year for the weather," says Stillman.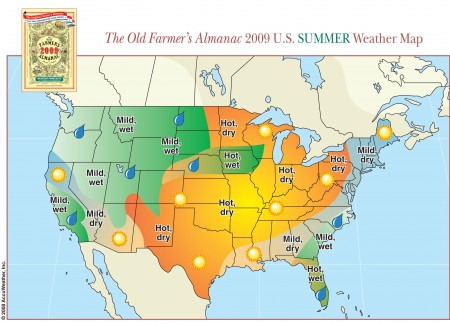 So, what does The 2009 Old Farmer's Almanac say about the weather year ahead?
Cooling is on the radar for Winter 2008-09, with heavy snowfall from southern New England southwestward into the Ozarks. Temperatures will be below average throughout much of the nation.
Spring 2009 will bring cooler temperatures to the Southwest and West. Rainfall will be above normal in Florida and the Southeast.
Hot will describe Summer 2009 in Florida and an area from the Great Lakes southwestward into New Mexico. The rest of the country can expect below-normal or average temperatures
The Old Farmer's Almanac is produced by Yankee Publishing Inc. of Dublin, New Hampshire. The Almanac family of publications also includes themed calendars for 2009: Gardening, Country, and Weather Watcher's (for wall display); Every Day (in the page-per-day format); and a spiral-bound Engagement Calendar.
Created for cooks (and anyone who likes to eat) is the just-released Old Farmer's Almanac Everyday Cookbook. This collection features more than 400 home-style recipes, including updated classics and family favorites passed down through generations.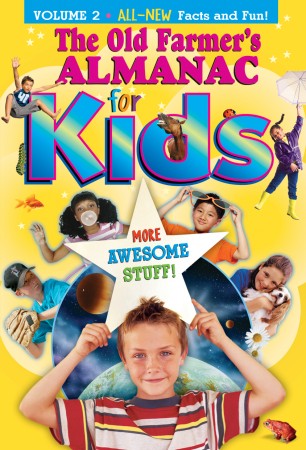 Also available is The Old Farmer's Almanac for Kids, Volume 2. Released every other year, this colorful book was created with the wit and wisdom of its parent publication, but for kids ages 8 and up. This newest edition features wacky and fascinating (not to mention educational) facts, stories, and projects that will keep kids occupied for hours.
The 2009 Old Farmer's Almanac is now available for just $5.99 from Almanac.com or wherever books and magazines are sold. Look for it on the newsstand or in the reference section of bookstores. The 2009 Old Farmer's Almanac is available wherever books and magazines are sold. Folks who can't find it in bookstores, supermarkets, or hardware stores can order individual copies or subscriptions at Almanac.com* or by calling 800-ALMANAC.
Did you know the Almanac.com is loaded with even more recipes, trivia, and advice than the Almanac. Try the home-page personalization option, the podcasts, the blogs, and the newsletter-free! Be sure to visit Almanac4kids.com, too.
Sections
Arts and Leisure, News

Topics
Global Warming, Weather