The verdict is in: Vice-Presidential candidate Sarah Palin "abused her power as Alaska's Governor" when she tried to get her former brother-in-law, an Alaskan state trooper, fired. This ethics issue and the investigation it spurred has dogged Palin throughout her vice-presidential bid.
Palin allegedly dismissed Public Safety Commissioner Walt Monegan fired after he refused to fire trooper Mike Wooten, Palin's former brother-in-law. Wooten had gone through a bitter divorce battle with Palin's sister.
The news flashed across international television and the internet this evening after a bipartisan Legislative Council, which had authorized the investigation of Palin's actions in this case, adopted the 263-page public report with no dissenting votes following a lengthy executive session today. An additional 1,000 pages of this report remain confidential.
The report clearly states that "Gov. Palin knowingly permitted a situation to continue where impermissible pressure was placed on several subordinates in order to advance a personal agenda"  and that Monegan's refusal to fire Wooten was "likely a contributing factor" in Monegan's dismissal. As governor, Palin had the authority to fire Monegan.
The report, however, states that Palin's attempt to get Wooten fired "violated state ethics laws" that prohibit public officials from using their authority to pursue a personal agenda.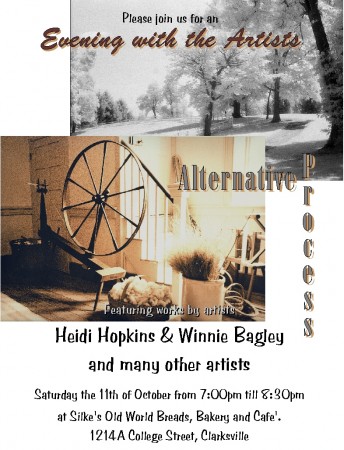 An Evening With the Artists will showcase the work of Heidi Hopkins and Winnie Bagley, along with selections from numerous other area artists, at Silke's Old World Breads, Bakery and Cafe from 7-8:30 p.m. Saturday, October 11.  Silke's is located at 1214A College Street.
Silke's, one of the city's treasures and pleasures, is more than a place for superb food, pastries and breads; it is a also a gallery displaying the paintings, photography, pottery and other items created by artists from Clarksville and its surrounding community.
In addition to the comfortable main dining area, there is a small gallery room that can comfortably accommodate 16-20 diners, and another table for 6-8 people just inside the main entrance. Each of these comfortable areas is overflowing with art to be be enjoyed and savored just as much as the food pouring forth from Silke's kitchens.
The public is invited to meet the creators of the new works now displayed at Silke's.
The annual  will take place Saturday, Oct. 11 at Governors Stadium on the campus of Austin Peay State University.
The contest consists of preliminary and finals competitions and will feature performances by 18 high school bands from throughout Tennessee. Local groups involved in the event include Clarksville, Kenwood, Montgomery Central, Northeast and Northwest high schools.
The event is open to the public; tickets are available at the gate. Phi Mu Alpha and Sigma Alpha Iota music fraternities are hosting the event in conjunction with the Governors Own Marching Band. «Read the rest of this article»