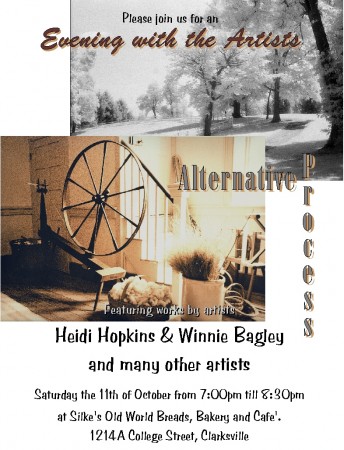 An Evening With the Artists will showcase the work of Heidi Hopkins and Winnie Bagley, along with selections from numerous other area artists, at Silke's Old World Breads, Bakery and Cafe from 7-8:30 p.m. Saturday, October 11.  Silke's is located at 1214A College Street.
Silke's, one of the city's treasures and pleasures, is more than a place for superb food, pastries and breads; it is a also a gallery displaying the paintings, photography, pottery and other items created by artists from Clarksville and its surrounding community.
In addition to the comfortable main dining area, there is a small gallery room that can comfortably accommodate 16-20 diners, and another table for 6-8 people just inside the main entrance. Each of these comfortable areas is overflowing with art to be be enjoyed and savored just as much as the food pouring forth from Silke's kitchens.
The public is invited to meet the creators of the new works now displayed at Silke's.