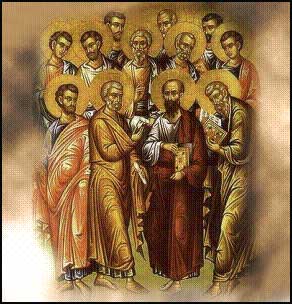 WWJD is sometimes singled out as a standard for measuring moral beliefs and moral decisions. Perhaps we can receive spiritual motivation, too, by asking "What would the Apostles of the New Testament do?"
One Friday morning during my solitary time in fellowship with God, I read a passage of Scripture that spoke to me from Acts 4: 32-37. Verse 34 summarizes the result of corporate and united action taken by the disciples: "There was not a needy person among them." The context sheds light on the meaning of the verse. The disciples shared their time, skills and talents as in response to God's call. They sold their houses and land and shared everything.
In analyzing this verse we see first a direct giving spirit. Their graciousness and personal sacrifice is a principle incorporated into our faith. All major faith groups expose this idea of sharing and giving to others. How can we practice this concept and integrate it into our own lives? As a spiritual people, we recognize the benefits of giving. «Read the rest of this article»
A large crowd of candidates and voters gathered Saturday for a Democratic Rally at North 2nd and Kraft Street. The event, which ran from 10 a.m. to 1 p.m., included speeches from Rep. Joe Pitts, Judge Charles Smith, City Councilor James Lewis, City Council Ward 5 candidate Aryn Coyle and was moderated by Rev. Emmanuel Holmes. James Witherspoon on Saxophone offered music for the event. «Read the rest of this article»
It's easy to look at Sen. McCain begging off a handshake from Sen. Barack Obama and just see a white guy dissing a black guy. But I wouldn't get Al and Jesse on the BlackPhone just yet — I think that whole thing is a sight more complicated than prejudice and politics. I'm (arguably) as much a race man as anyone, but real men everywhere know McCain's in clear violation of the man code. Let me explain.
For me and most of the men I know, the handshake is as good as gold: it's a bond that seals a covenant of honor and mutual respect. Now, some cats go overboard. Like, shake my hand firm, man, but don't squeeze too hard. Who are you? Popeye? No need to break my fingers. «Read the rest of this article»