The Spanish heat and gypsy passion of Georges Bizet's Carmen comes to life in Francesca Zambello's Covent Garden production of this classic opera, now playing on screens around the world, including the Carmike 10 at Governor's Square Mall on Thursday, October 16, at 7 p.m.Tickets are $15.00 and can be ordered online.
Zambello recreates the sun-drenched and sensual world of 19th century Spain, with its ranks of soldiers and crowds of peasants, its gypsies and bullfighters, its spectacle and its deadly, white-hot emotions.
The story is set in Seville, Spain, circa 1830, and concerns the passionate and volatile Carmen, a beautiful Gypsy with a fiery temper. Free with her love, she woos the corporal Don José, an inexperienced soldier. Their relationship leads to his rejection of his former love, mutiny against his superior, and joining a gang of smugglers. His jealousy when she turns from him to the bullfighter Escamillo leads him to murder Carmen. «Read the rest of this article»
This is part one of a two part story on Adventure Skydiving as it happens on weekends at Outlaw Air Field. Part two ran on Wednesday, October 14. Bill Larson wrote:
I have always wanted to jump out of an airplane. It was an item on my bucket list. You know, a list of things to do before you kick the proverbial bucket. So when a chance came to cross one of those items off my list by jumping out of an airplane, and then write about it, I, please pardon the pun, jumped at the opportunity…

Early voting for Montgomery County for the Presidential, State, General and City Election will begin on October 15 at the Montgomery County Election Commission, Montgomery Veterans Plaza, 350 Pageant Lane, Suite 404. The actual election day is November 4.
Here are the days and times when registered voters can go to the Election Commission office to cast their votes:
Early Voting: October 15 -30, 2008
Wednesday, October 15,Thursday, October 16, and Friday October 17: 8 a.m. to 4 p.m.
Saturday, October 18: 8 a.m. to noon. «Read the rest of this article»
Not your typical house party, mind you, but a warm and cozy coffeehouse atmosphere that celebrated new artworks, friendship and great food. The viewing was fluid and inspiring as viewers discovered new delights from front to rear and back again.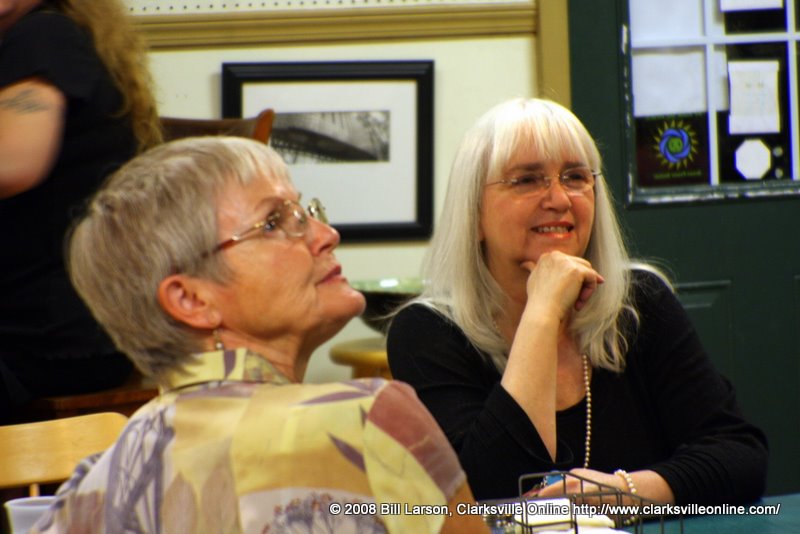 Saturday evening saw Clarksville's own Silke's Old World Breads open for a special occasion — its bi-monthly artwork installation known as 'An evening with the Artists."
This evening of free-roaming art viewing and appreciation was accompanied with a buffet of Silke's equally impressive and absolutely scrumptious food. This evening of art appreciation welcomes all art lovers. On Saturday night, that meant "standing room only." «Read the rest of this article»