Dancing' in the Streets. Rock and roll all night…
That was downtown Clarksville Friday evening as The Beagles took to the stage  for a rousing outdoor concert at Strawberry Alley. With the road  closed to traffic, downtown eateries were able to set tables in the roadway and serve food and beverages as the music played. The concert, which began at 6 p.m., initially attracted a very small crowd, but as the music revved up, it drew in more and more people until "Jammin in the Alley" became a packed house.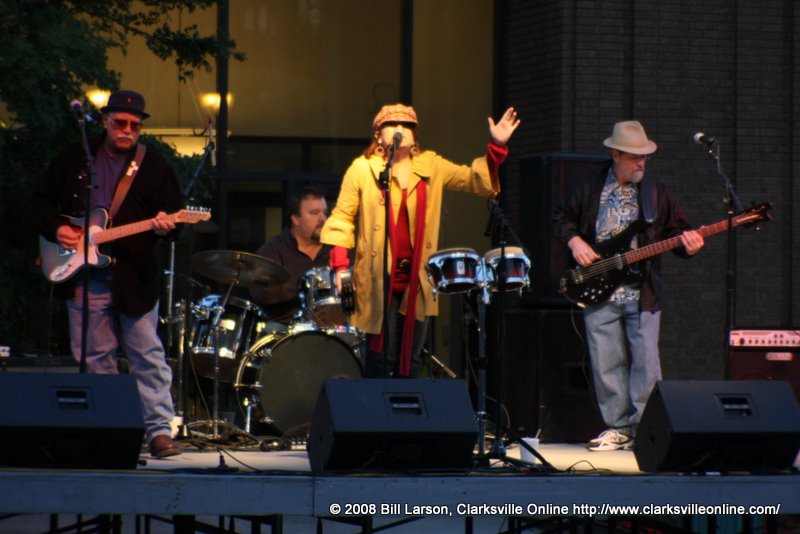 The Beagles, with their covers of everything from the Beatles to Dion to Janis Joplin, were spectacular, a perfect fit for this outdoors venue, which was test run of a 2009 Jammin' in the Alley concert series to be held on the third Friday of each month, starting in May and ending in September. It is a create way to breathe new life into the downtown area.
Jammin in the Alley is a family event, evidenced by the number of youngsters jumping around and twisting to the music. The Beagles are a user-friendly band, taking time to play several children's songs and invite their youngest fans on stage to sing. By the second half of the show, many members of the audience were literally "Dancin' in the Streets." It is the kind of event that perfectly planned, one that will be repeated multiple times next season.
But pictures are worth a thousand words, so we offer our readers images from a terrific downtown concert event. (Photos by Bill Larson)