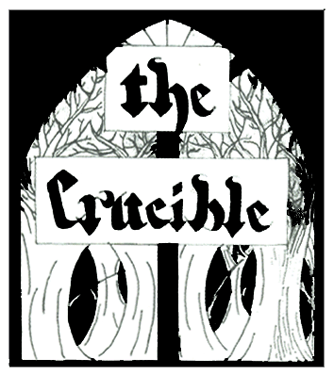 Arthur Miller's The Crucible opens  Friday, October 24, at 8 p.m.; this is also our pay-what-you-can night for this production.  Please spread the word about this classic and compelling drama of paranoia and superstition, perfect for the fall season.
In 1692, in a small American town, a group of mischievous girls are caught dancing in the woods, while conjuring spirits. To escape punishment they accuse others of witchcraft. Husbands, wives, sons, daughters, neighbors and friends are forced to sentence the accused … or risk being accused themselves. This magnificent work continues to resonate and is as relevant today as when it was first produced.
The Roxy's professional company for this production includes Brendan Cataldo (Jim Haller in All Shook Up, Big Harp in The Robber Bridegroom), Anne Elyse Chambers (Hunyak in Chicago, Soothsayer in Julius Ceasar), Jay Doolittle (Morrie Schwartz in Tuesdays with Morrie, Toby Veck in The Chimes), Michelle Dykes (The Little Foxes, Alice's Daughter in Big River), Maria Maloney (Natalie in All Shook Up, Rosamund in The Robber Bridegroom), Raven Peters (Little Harp in The Robber Bridegroom), Linda Speir (Amelia Tilford in The Children's Hour, Birdie in The Little Foxes), Nathan Whitmer (Clemment Musgrove in The Robber Bridegroom, Casca in Julius Ceasar), along with newcomers Ashton Crosby, Adam Dietz, Laura Frye, Michael Green, Phil Perry and Carolyn Wickwire.
The following young people will round out this stellar cast: Daynnah Carmona, Hannah Carmona, Elizabeth Coleman, Kari Muller, Amy Wyer, Ally Campbell, Samantha Grimes, Julia Huffman, Rebekah Norfleet, Leannah Carmona, Eden Cohen and Frances Dennis.
The Crucible runs through November 15, playing Wednesday and Thursday nights at 7pm and Friday and Saturday nights at 8pm, with a 2 p.m. matinee on Saturday, November 1. Tickets are $15/adults and $10/children 13 and under.  Pay-what-you-can tickets go on sale this Friday evening at 7:30pm.