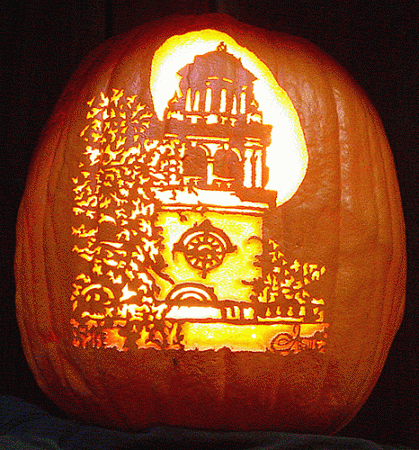 Volunteers have been gearing up for a week for the annual Haunting History autumn tours at Dunbar Cave, which runs Friday and Saturday, October 24-25, at Dunbar Cave Natural Area on Dunbar Cave Road, in Clarksville. The event runs from 5-8 p.m..
It's a family affair, with teams of guides taking children as young as three years of age (young children must be accompanied by a parent) through one section of the cave. What's inside? The path through the cave will be illuminated with carved pumpkins. Inside the cave, three grottos are set up with young actors from the Roxy Regional Theatre offering stories and skits on the cave's natural history.
«Read the rest of this article»
If you've seen 1920s flappers, rock 'n rollin' kids in poodle skirts and guys with slicked back hair and leather jackets, hippies in bellbottom jeans and tie-dyed T-shirts dashing from class to class … you can believe your eyes: decade by decade, APSU students have been heading towards Homecoming with a celebration of decades past. Halloween has nothing on this Homecoming  celebration, which is themed "Let the Good Times Roll!
Homecoming continues through the weekend with the following events:
Friday, Oct. 24: Decade of the Day – Totally '80s
30th Annual Homecoming Golf Tournament, 8 a.m., Swan Lake Golf Course. $60 per person. Open to the public. Fee includes ditty bag, refreshments on the golf course and light lunch. Nelson Boehms ('86), Frazier Allen ('99) and Jeff Turner, co-chairs. Contact Alumni Relations Office, (931) 221-7979 or 1-800-264-2586. «Read the rest of this article»
The Clarksville-Montgomery County "League Of Voter Empowerment" (L.O.V.E.), a not-for-profit voters club, and its President, Terry McMoore, have endorsed the following candidates listed below for the November 4 General Election. The candidates were selected during the monthly L.O.V.E. breakfast meeting.
The League's mission statement says the group "will endorse and vote for the candidates that we believe best support our agenda and we will work to vote out the elected officials that we know do not have the best interest of their constituents in mind.
During the last election season, nine candidates on the ballot endorsed by L.O.V.E. won their races and are still representing their constituency today. The League encourages everyone to cast your their vote on Election Day; "your vote is your voice!" «Read the rest of this article»