Lights are already being strung through the trees at McGreggor Park in preparation for Clarksville annual holiday festival of light.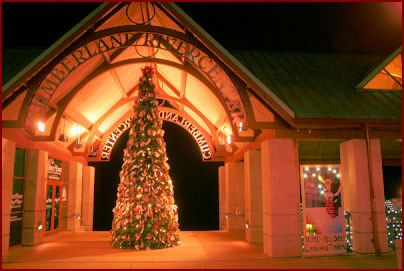 The 10th annual Christmas on the Cumberland at the RiverWalk is just a few weeks away and the city of Clarksville is proud to announce that the holiday light festival was voted a Top 20 event by the Southeast Tourism Society for the upcoming holiday season. This means Christmas on the Cumberland will be recognized in the travel industry as a top destination in the Southeastern United States, which city officials hope will result in a lot more visitors to Clarksville and the RiverWalk this holiday season. «Read the rest of this article»
Tour of Wurdz is a non-profit Cause.  Beginning with a simple request to do a poetry reading, writer /activist/artist Gikuyu and his friend artist /author Brandt Hardin to created Tour of Wurdz. The cornerstone of their mission is a commitment to contribute.
The election on Nov 4th will be one of the most important elections to a lot of people, a Tour of Wurdz spokesman said, adding that on election night at the Icehouse Café on University Drive art works by some of the regions finest artists, including Brandt Hardin, will be on display to augment both poetry and prose offered during an open mic.
Enjoy the music performed by those who's willing to get on stage and share themselves while also watching the election unfold on the wide screen T.V. The theme of this event is "Reality Check." «Read the rest of this article»
The Montgomery County Democratic Party will hold its Election 2008 (November 4) celebration at the Riverview Inn Ballroom, 50 College Street, in downtown Clarksville beginning at 7 p.m. The event is open to the public and is being staged with the expectation of a presidential win by the Obama/Biden team. All Democratic candidates are expected to attend and wait for the final tally.
Given the number of candidates and campaign staff involved in both Clarksville for Obama and the MCDP, the Dem headquarters on Madison Street was too small for the expected crowd on Tuesday evening.
Attendees can watch the returns on a large screen TV with additional internet access to results as they happen.
Youngsters celebrated Halloween Thursday at the Montgomery County Public Library, parading through the library in costumes and collecting treats along with entertaining stories and games.
Here are a few more images of youngsters in the "spirit" of the day. «Read the rest of this article»
The City of Clarksville has partnered with the Clarksville Jaycees to co-host the 49th Annual Christmas Parade downtown.  The night-time parade featuring lighted floats and entries is scheduled on December 6, starting at 5 p.m.
Toys collected during parade check-in on December 6 will be distributed to families in need in the Clarksville/Montgomery County area before Christmas.
Parade entrants are asked not to exceed the $20 value per toy, but you may donate more than one toy in the same price range. «Read the rest of this article»