"Change has come to America."
With those words, Obama accepted the designation "President-elect."
In Montgomery County,  voter apathy of the Election 2008 primary dissipated as a surge of voters discontent with economic and military policies of the Bush regime turned out in impressive numbers to cast their ballots and make history in the process.
Either way, the election would step onto new ground: with a female Vice-President or with the country's first African American President. In the early tallies from the East Coast, Obama surged forward with a momentum that garnered all six New England states, including the New Hampshire communities that in an upset vote brought McCain into the race for the presidency.
Florida fell into the Obama camp, and North Carolina. The McCain "Republican red" popped up in dribs and drabs, but with Obama's taking of Pennsylvania and Ohio, the die was cast; by 11 p.m. the 270th electoral vote was claimed, and surpassed. By 11:30 p.m., Obama was assured victory with 338 electoral votes and counting.
At the Riverview Inn, a packed house of hundreds of campaigners gathered, cheered, chanted and occasionally rattled the rafters with screaming as their candidate deliberately and diligently walked into the White House.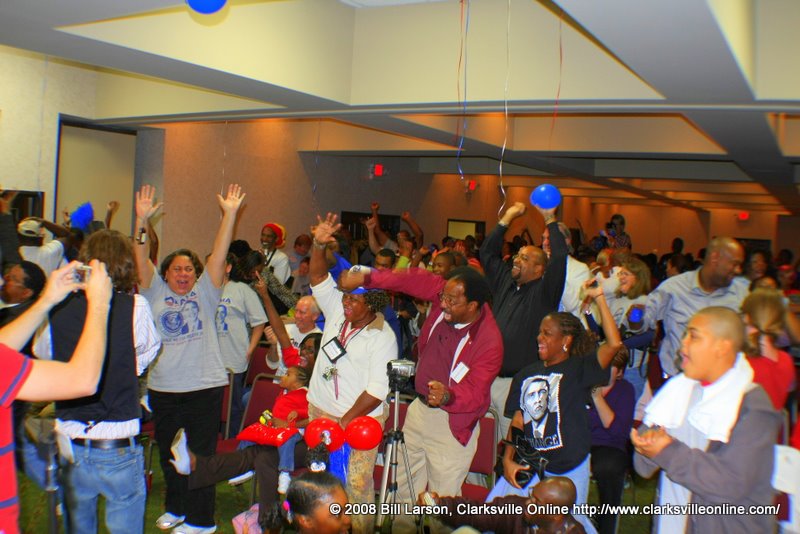 Just a few days ago, many publications including Clarksville Online published a picture of the late Robert Kennedy circa 1968 that stated "in about 40 years we will have a black president." Tonight, new young voters, older voters, men and women of  varied ethnic backgrounds, gender, economic status and religious beliefs found a meeting of the minds in the casting of their votes. They made history in a way that has not been seen since the political turmoil of the 60s. The result was exhilirating.
With two large screen televisions booming out the results in a play by play, state by state fashion, the electoral votes just kept stacking up. When the West coast went solid blue from the Mexican to the Canadian borders, it was all but over (our apologies to Hawaii and its time zone distance).
Clarksville Online, with two laptops in use for tracking and posting election results, also tracked global coverage: the BBC, which had an Election bus in Clarksville several weeks ago, was tracking the U.S. elections live, as were news sites in China, Kenya, Chile, and a host of other countries. Some 70 countries had in recent months made known their preference for Obama over McCain, and they were all watching American broadcasts Tuesday night, the culmination of a long day.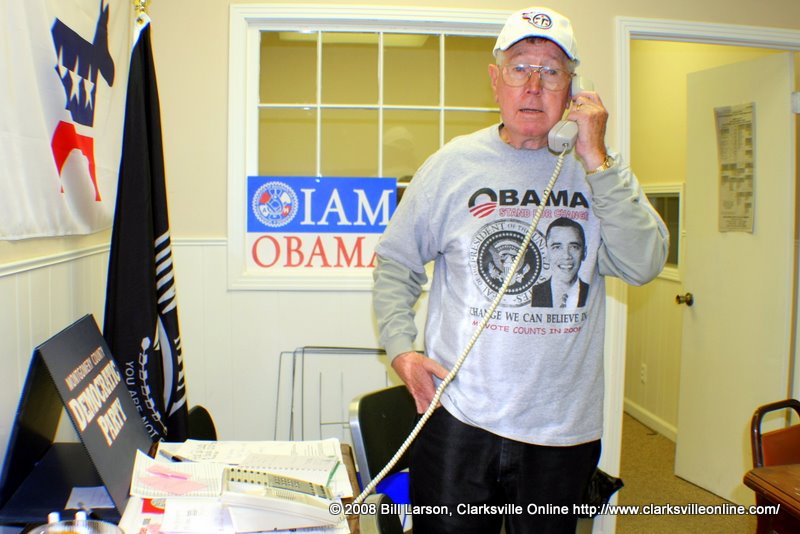 Early Tuesday morning, Democratic headquarters was bustling. People seeking 11th hour signs, buttons and bumper stickers came through the doors. The aroma of coffee filled the rooms. Volunteers punched out phone numbers, calling registered voters to remind them to "get out and vote."
Clarksville Online began its traditional circuit of all precincts in Montgomery County, speaking with voters, documenting the election on film, tracking how many people are voting in which precincts.
A tidal wave of voters cast ballots before 9 a.m. At the Jaycee's on Hwy 48, a poll worker said she had more voters "in the first hour that in the entire primary." Some polling places had a 100 people in line, some with 45 minute to one hour waits. It is a testament to concerns about the war, the economy, health care and other issues that few if  any left. Conspicuous too was the presence of hundreds of younger and first time voters in the crowds.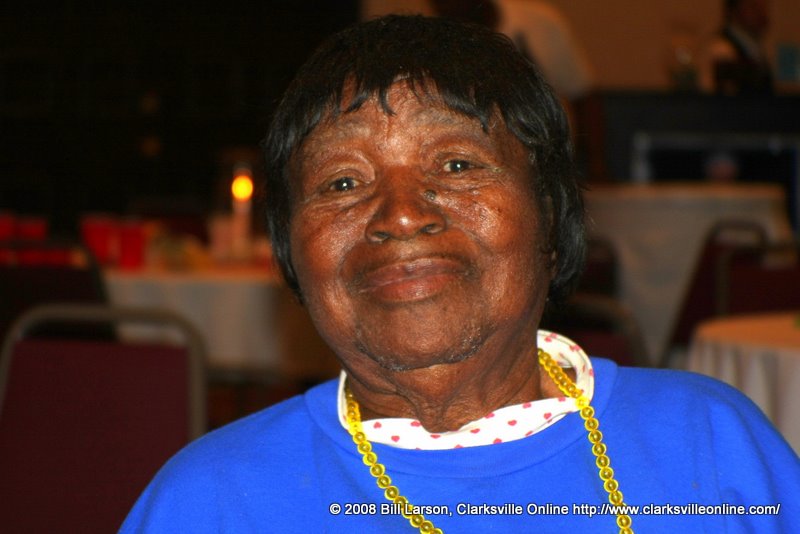 Adeline Burr, 100 years young, was seated at the MCDP/Clarksville for Obama celebration. She had not voted in 20 years, but re-registered for the 2008 election. She not only went to the polls to cast her Obama vote, she spent time at the Riverview Inn reception despite recent surgery on her knees. She has seen a lifetime of political change and political battles, and had lived through segregation and the civil rights movement. To see a Black American step into the presidency is something she once could only dream about.
"It's come true," she said. "It's true. I'd never thought I'd see this day."
Glenellen and Hazelwood schools were jammed with traffic as the last few hours of voting descended. A "steady stream" of people became a river, and parking was at a premium even at 500 feet from the polling place.
John and Kadi Ralston though "the voting went smoothly" and said they were "not surprised" by the crowds given that registration of new voters was record-breaking for this election.
Alicia Piekarski, 18, an Obama supporter, wants the kind of generational change she feels Obama will bring to nation. Currently, Piekarski is studying contemporary issues in schools, and had read numerous articles and had class discussion of the candidates and the issues in the race. Piekarski felt "prepared" to make her choice.
College freshman Becca Smith cast the first vote of her life at Ringgold Elementary School. Smith, who candidly admitted she voted the Obama ticket, said "I like what he stands for. McCain drives me up the wall, and there are no words to explain (Sarah Palin)." Smith was "nervous" about voting but said the explanations were "comprehensive." She felt that with her vote she was part of history.
At each polling place, a plethora of volunteers, some settled into folding chairs, hunkered down for a day of campaigning,were armed with signs, balloons and flags (the latter positioned around Obama/Biden signs).
At Republican headquarters, volunteers prepared to celebrate a McCain win for the State of Tennessee, and were quick to defend their roster of candidates.
At Democratic headquarters on Madison Street, phone bankers were making those last minute calls, arranging to get people to the polls, and planning for the evening's reception.
As twilight fell, and with bated breath, the waiting began. Seeds planted two years ago germinated, grew and matured to a dream harvested in just a few short hours Tuesday night.
On the road, tracking precincts and voter turnout:
Celebration at the Riverview Inn: