"Since history has no properly scientific value, its only purpose is educative. And if historians neglect to educate the public, if they fail to interest it intelligently in the past, then all their historical learning is valueless except in so far as it educates themselves." G. M. Trevelyan.
The Port Royal Covered Bridge has finally been dismantled and hauled away to reinvent itself as a sturdy barn for a local farmer. The actual removal process on both sides of the river took about three weeks total, but the effect will have on the park could take years to overcome. I did not grow up here in Clarksville, nor did any of my family, so for me it has been hard to find sympathy for the dedicated supporters of the remains of the bridge.
The bridge was first built in 1903, then fell during construction, killing one young boy; it was rebuilt and then fell again in the 1970's due to a storm and was rebuilt again and fell in the mid 1990's to flooding, where it remained until recently. The original bridge was much larger than its later versions and only served the community of Port Royal for a short time in its history. However, there were many fond times there, weddings, schoolboy mischief, stolen kisses and family outings.
Mrs. Meadows down the road says she can still remember her youngest daughter race her brother across the creaky wooden beams on her bicycle. "I can still see her flying across that bridge, laughing all the way."
For those, the bridge represented a happy time, a carefree time, a simpler time a time to always hold dear.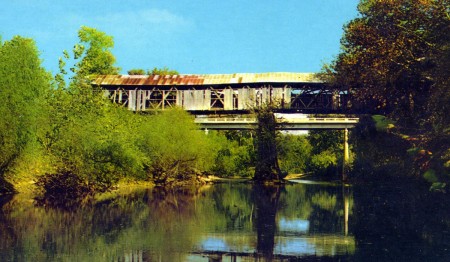 For those of us who are trying to rekindle another part of the town's history, the bridge was more often times a thorn in our sides.
"When are they going to rebuild the bridge?" We would so often hear.
It was never "Can you show me exactly where the Indians may have camped during the journey on the Trail of Tears?"
or "Where was Bertha Borne's store that served this community proudly for so many years?"
Or how about " How many Forts and settlements were located in this area?"
Yes, I know that "the bridge" is a part of this area's recent history, I get that, but for the purpose of this park, it's not that part of history they are focusing on. Not only had it become an eye sore, it stood as a constant reminder of what used to be and only spurned unwarranted bitterness toward local state parks and government. Who, by the way, took great pains to be sensitive to everyone's feelings about the bridge and hope to bring other opportunities to the table to begin new traditions, form new family memories and above all educate the public on what Port Royal and the Red River community once was.
What remains here now is a lone pillar, standing victoriously on the bank of the Red River, just like she has stood since the callused hands first built her stone by cold solid stone. She is a bit scarred, a bit cracked, but she continues to stand as a reminder of what once was, the last standing reminder of the original bridge. She has been an accomplice to a young man's murder, held her ground through countless tornado's and been washed clean by a springtime flooding. She has lent her shoulders to heavy beams and the occasional Heron nest, now the weight has been lifted, and she still stands. You should come out and see her; she's really quite marvelous!
About Beth Britton
Sections
News, Opinion

Topics
arts and leisure, Port Royal, Red River