This year's Winter Gym program is at Byrns-Darden Elementary School from 6:30 p.m. until 9:30 p.m. on Monday's, Tuesday's and Wednesday's. This program is for folks who want to use the gym for open play basketball this season. Those interested in participating should use the entrance on Peacher's Mill Road to access the gymnasium each night.
The Kids on Crafts program will be at Kleemen Community Center at 166 Cunningham Lane on Tuesday, November 18th from 3 p.m. until 5 p.m. The class features the abstract works of Kandinsky, Picasso and Pollock. After instructions, the children are free to create their own abstract impressions on canvas. The program is free and open to children ages 7 to 15 with a $5.00 center ID Card.
Also on November 18th at the Kleeman Center is the Park Rangers Park Watch Meeting at 7 p.m. All those interested in knowing what is going on in our park system and how you can play a part in Park safety should mark your calendars to attend.
Two men are in custody for a drug-related home invasion that occurred November 16 on Monarch Lane.
Arrested were Frederick Quinton Hackney (B/M, DOB: 3/13/1980), of Martha Lane, Clarksville, charged with Especially Aggravated Robbery with a Bond of $25,000 and Possession for Resale  with a bond of $10,000; and Vincent Edward Quarles (B/M, DOB: 2/23/1977, of  Monarch Lane, charged with Possession for Resale with a bond of  $5,000. «Read the rest of this article»
'Holiday Season at the Cafe' is underway at Silke's Old World Breads, a celebration that includes an "art swap" to be held November 30th from 1-3 p.m. The show is titled "small packages" and everyone is invited to bring up to seven small pieces priced at under $100.
The public is invited to a reception that will be held December 13 from 7-8:30 p.m.. If anyone is interested in exhibiting  next year and in being the featured artist for one of the shows, slots are available for 2009.
Silke's was just featured on TN Crossroads We were featured on TN Crossroads recently, and show some of the Art was displayed. Silke's is loacted at 1214 A College Street in Clarksville.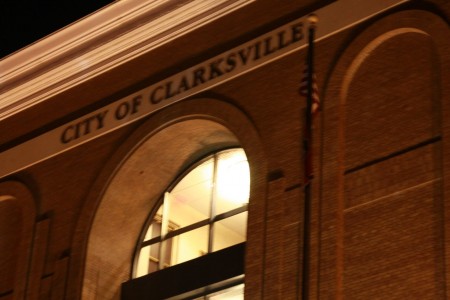 Several decades ago, as a public elementary school student, I learned that the purpose of government is to provide for its citizens those essential services that we cannot accomplish individually, such as police and fire protection, public education, and public libraries.
For the Clarksville city government, meaning the elected mayor and the elected city council, building a water park, placing cameras on traffic lights, and building a separate city council structure violates Jeffersonian democracy to the point that we should vote them all out. «Read the rest of this article»