Kyle, Heron to head caucus
NASHVILLE — Senator Jim Kyle, D-Memphis, and Sen. Roy Herron, D-Dresden, have been elected by members of the Tennessee Senate Democratic Caucus to serve as minority leader and caucus chairman respectively for the 106th General Assembly. Leadership elections were held during a caucus meeting in Nashville last night.
Also, Sen. Doug Jackson, D-Dickson, was re-elected as vice chairman and Sen. Andy Berke, D-Chattanooga, was chosen as secretary/treasurer. All elections were by acclamation.
Kyle said that Senate Democrats look forward to tackling the many challenges facing the General Assembly during the upcoming session.
"I'm honored that the caucus elected me to another term as their leader," he said. "Senate Democrats will continue to lead on the important issues facing Tennessee. We'll continue to fight to expand access to a quality education, to provide the affordable health care that every Tennessean deserves, and to balance the state budget even in these tough economic times. Senate Democrats are up to the task."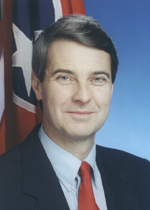 Herron said he is "ready to fight for the changes and the jobs that Tennesseans need so our children and all of us can prosper." The Dresden Democrat said, "Governor McWherter taught me 'If you don't want to work, you ought not to hire out.' Senate Democrats are ready to work for Tennesseans."
Outgoing caucus chairman Sen. Joe Haynes, D-Goodlettsville, was thanked by the members for his 12 years of service. Haynes did not seek re-election.
"After 12 years as caucus chairman, I thought it was better to bring new blood and new enthusiasm to the position. It is my belief that Roy Herron is well prepared for the job, and I look forward to working with him to regain control of the Senate for the Democratic Party in Tennessee." — Sen. Joe Haynes
Kyle has been a member of the Senate since 1983. Herron was elected to the Tennessee House of Representatives in 1986 to fill the seat of his mentor, Governor Ned McWherter. He was elected to the Senate in 1996.