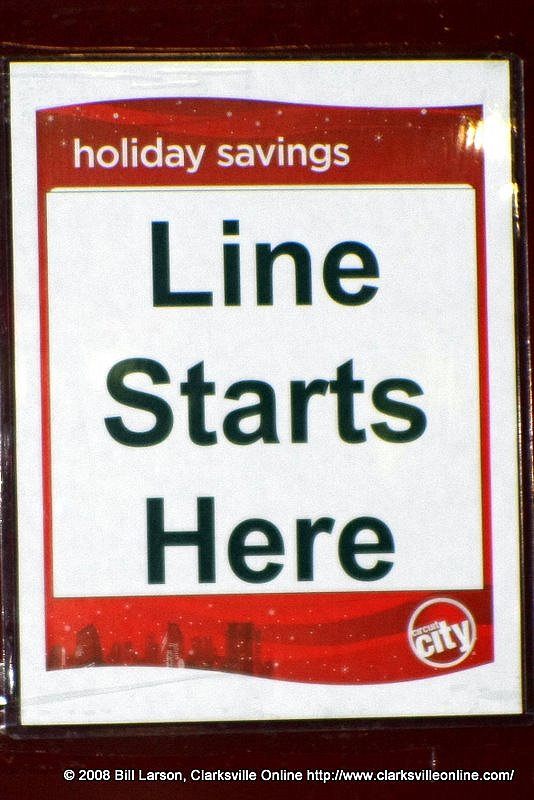 While merchants regularly count on making forty percent of their yearly earning on the Friday after Thanksgiving. An early morning tour of local shopping venues showed that shoppers were not camping out in anything like the numbers of years past. With all the special advertisements for sales and discounts to be had, parking lots were distressingly empty. Here's what we found at 2 a.m. this morning:
Our objective was the Governors Square complex, where one finds several of the largest retailers in our community: Target, Circuit City, JC Penny's, Dillard's, Old Navy, Sears, Toys 'R Us, to name a few. Driving through the various parking lots, we found them — unlike last year — disappointingly bare of overnight campers. Target, Dilliard's, and JC Penny were completely empty, and Toys 'R Us and Sears had only one car each.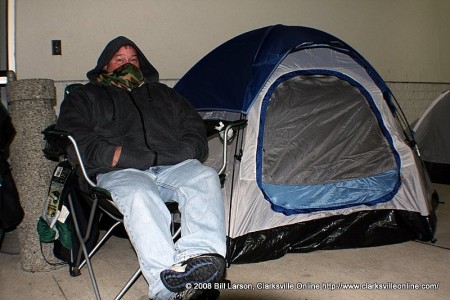 The first stop on our survey tour was the Best Buy Store. At 2:02 a.m. there was a line of approximately 60 to 75 people camped out at the store. Sleeping bags, tents, lawn chairs, blankets filled the sidewalk along and past Premiere Medical Center and wrapped around the corner. This proved to be the largest gathering we encountered in our city tour. Best Buy had set out Port-a-Potties, lighting and recorded outdoor music for the campers. Speaking with a few of the hearty souls gathered revealed the following:
Having arrived at 5 a.m. Thursday morning, Dan Stafford was looking to save money on a laptop
Aaron Watts said he started his vigil at 1:30 p.m. Thursday and was looking for computers, both a laptop and a desktop
Souette Quinn took up her post at 4 p.m. Thursday. She was looking to save $500 and buy a laptop and software.
Next we traveled to Circuit City. At 2:11 p.m. there were considerably fewer campers awaiting the Black Friday savings. Daniel Lockwood was there with his friend Raphael Alexander, looking to save money on cellphones, DVDs and video games. They had began their vigil at 6 p.m. Thursday. Quentin McLaughlin was interested in MP3 players, the Samsung Fuse, a Nintendo DS and was looking to spend about $250. There were also two good friends from Trigg County in the small group of about 15 people.
From Circuit City, we traveled to the front entrance of Governors Square Mall, where an even smaller group of die-hard shoppers stood their ground in the silent dark. Mitchell said he had been there since 11 a.m.. Ashley and Amber came on the scene at 11 p.m. with their Uncle Roger as guardian. They were looking for anything from Hot Topic and getting something to eat. Ashley admitted her funds were rather meager but she was hoping to find good bargains. There were about eight people camped out at the entrance and maybe four more in parked cars. At this point, we drove around the mall, finding the parking lot barren at JC Penny, Belk, Dillards, Old Navy and Sears. Toys 'R Us was likewise forlorn, as was the lot at H.H. Gregg.
There were about 15 cars parked awaiting the specials at Kohl's. K-mart employees seemed to be only cars in that parking lot- there was no one inside the six cars parked there and TJ Maxx was even more so vacant. However, Office Depot did have a hearty bunch awaiting their door opening. Wendy Kostenbawder and Jenny Shulze had arrived at 2:30. Wendy was looking for a laptop. Drew Jeffrey said he was also looking for the laptop special. The sales flier said there would be a minimum of six at each store and there were seven shoppers in this group. Right next door at Electronic Express, Dakota said he had been posted since 6 a.m. Thursday and was looking for a laptop. Other locations scoured included Borders, Pier 1, Books-A-Million, Hastings, Radio Shack, Hollywood Video, Big Lots, Grandpa's, Riner's and Chuck's Furniture Stores, and both the Wilma Rudolph Boulevard and Fort Campbell Boulevard Wal-Mart Super Centers. Except for the Wal-Marts, businesses were all closed, with no indicated activity inside and no shoppers camping out for specials. The Wal-Marts were open but with no appreciable volume in their parking lots.
This little tour ended at 3:40 a.m.. It is hoped that shoppers did arrive after our drive-through, but the feeling from most the people we talked with indicated that while they were intending to spend some money, they had specific objectives and were not looking to be extravagant or deviate from their shopping lists. Everyone referred to being practical in some sense or another. This does not bode well for merchants. Last year early bird shoppers numbered in the thousands at the various retail outlets. What we saw would barely break the 130 mark. Our conclusion: the economy is having a definite impact on consumer shopping. Merchants are going to have to keep bargains in front of the public and have sufficient staff to insure quick processing at the check-outs. Best of luck to us all.
Share your Black Friday experiences. Did you shop online, go to Nashville, Bowling Green, Memphis, Atlanta, Louisville or not bother at all? Or are you looking for specials on Franklin Street or other local venues? Maybe you went shopping on Thanksgiving Day. How will you spend your holiday dollars this year?