Now that Thanksgiving meals are behind us, you might want to consider visiting our community centers weight and fitness rooms before the Christmas parties begin.  Each community center is filled with treadmills, a Universal Machine, which is various weight stations, and Racquetball Courts to help ward off those extra pounds during the holidays.
Burt Cobb Community Center at 1011 Franklin Street has three treadmills and the Aerodyne Bike.  The Crow Community Center at 211 Richview Road has an Elliptical Running Machine and an Aerodyne Bike.
If weight training or exercise machines are not your cup of cheer, visit the Kleeman Community Center at 166 Cunningham Lane where they have Wallyball equipment that can be rented out for $4.00 an hour.  This should give an entire family the workout and competitive fun they are looking for. Racquetball Courts can be reserved Monday through Saturday during normal center hours for $3.00 per hour. «Read the rest of this article»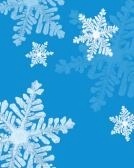 If you think the gray cloudy sky looks like winter and the temperature feels cold enough to snow, you're right.
The National Weather Service has issued a special weather statement calling for "snow showers" and the possibility of a slick dusting of snow overnight tonight and into Monday. The statement reads in part:
"Colder temperatures will change lingering rain showers to snow showers tonight. Snow showers will continue on Monday with temperatures remaining in the 30s. Light accumulations possible over Middle Tennessee. Tonight's low will hover at the freezing mark of 32, with a west wind at 15-20 mph."

Snow showers are "likely" on Monday with winds gusting to 25 mph and the daytime high hovering in the mid-30s.
Weather service forecasters noted that there has not been "measurable snow" in November since 1996, and the average date of the first half inch of snow in this area is January 3.
I began my devotion to processing and keeping informed on current national and international events years ago with the daily watching of CBS news with Walter Cronkite, the most trusted reporter in the United States during his his reign. I believed, as others did, that his understanding and reporting of the news could be accepted as truth.
In the last two years, I gathered an analyzed the daily news from MSNBC. As if addicted, I find myself anticipating this daily newscast, which comes in on Channel 49 in Montgomery County. My keen understanding and interpretation of the news is influenced by MSNBC, where a trio of commentators — Chris Matthews, Keith Olberman and Rachel Maddow — are welcomed into my home. They serve as commentators as well as reporters that provide insight into the news that I can find nowhere else.  «Read the rest of this article»