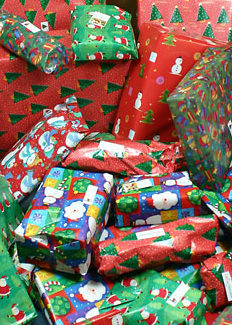 In reading about the crushing death of a security guard at Wal-Mart on Black Friday, combined with the number of injuries, and now a lawsuit against the retailer, and then reading of the shooting at a Toys 'r Us store, I began to feel as if I were moving through an episode of The Twilight Zone. All this tragedy for a TV? A Computer? The latest video game components?
My stomach churns, and I realize again why the sheer lunacy of queuing up in the wee hours of morning for a bargain has never been on my agenda. Never will be. This statement of the American consumer mindset is appalling, and as a nation, we should collectively be ashamed of ourselves. «Read the rest of this article»
Despite unusually cold temperatures and a bit of a brisk wind, Christmas revelers were out in force for the annual Jaycees Christmas Parade. By mid-afternoon sponsors were queuing up in the parking lots of Austin Peay State University to put the finishing touches on their float entries.
Even as the finishing touches were added at APSU, festivities downtown were warming up with the choral work of the Northeast High School Choir (well bundled against the cold) under the direction if teacher Debbie Wilson.
The parade and its two Marching Bands (Rossview and Northeast High Schools), floats, and both civic and business entries, stepped off at 5 p.m. from the APSU campus, took approximately an hour and a half to wind its way downtown.
«Read the rest of this article»
My life is upgraded this holiday season; it is a time for cultivating an already good relationship with my five grandchildren. My desire and goal is to make the bond between us an ever growing one. An intimate connection with them will enrich their lives and mine.
On Sunday at church we sang "This little light of mine, I'm going to let it shine." The lyrics and melody escorted me down Memory Lane. I learned that lively song in a Nazarene Church Sunday school. It was comforting to listen to this music again.
In my life of seventy-plus years, I remember men and women of faith who served as lights in my journey of faith. There were Jack Folson and Henry Meade, who picked me up on Sunday for religious education at the Central Church of the Nazarene. I credit their "light" for assisting me in spiritual pilgrimage as a youth. Through the "light" and inner glow of these influential lay leaders I was attracted to God. Through their patience, compassion and and devotion since I was 16 years old, I continue to sing "…everywhere I go, I'm going to let shine" as a testimonial to the development of my spiritual traits nurtured through wondrous grace. «Read the rest of this article»