The cold air sweeping in from the northwest pushed away the storminess of the day, leaving behind a scattering of deep clouds to be burnished by the setting sun. The air at first held a golden glow, then shifted to a glowing fuschia color streaked with gold, akin to the glow of a candle flickering through cranberry glass.
«Read the rest of this article»

The Clarksville Fox Women's Football team has put up a "Get Your Picture with Santa Claus" display inside Clarksville Fox Women's Football in Clarksville.  Santa will be there live every day from 11 a.m. until 8 p.m. starting December 11th through Christmas Eve.
Santa's helpers will be there taking pictures for $5.00 each.  You will get a color 4×6 glossy printed out picture of you, your family, friends, and pets if you want, with a portion of the proceeds will go to purchasing Christmas presents for some of the children of Clarksville's Big Brothers & Big Sisters, and some of the children in the FUEL program.  There are special needs for gifts for these precious children in which the Fox are trying to meet.  Stop by Rural King in Clarksville and get a picture with Santa and help us get these needed Christmas presents or leave a gift or donation.
FORT CAMPBELL, Ky:   The Fort Campbell High School Falcons will travel to Louisville, Ky. Friday morning to participate in their second consecutive bid for the Kentucky State 2A football championship.
The Falcons will play against Newport Central High School Saturday at 10 a.m. at Louisville's Papa John's Stadium. Last year, the Falcons defeated Newport Central 21-7 to become the 2007 2A state football champions. The game will be broadcast live at http://khsaa.ezstream.com at 10 a.m. local Saturday. «Read the rest of this article»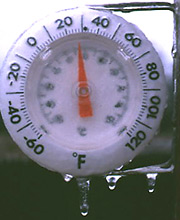 "Baby it's cold outside" is the song of the day, of the week,  as the early onslaught of cold weather seems to be settling in for the winter season with cold heavy rains Wednesday and a surge of frigid air today that turned lingering showers into spurts of sleet and possible snow showers later tonight. Even moderating temperatures on Sunday, when the high is expected to hover in the low 50s, will be short lived.
The greater Clarksville area seems to have skipped autumn altogether, moving strait from hot humid lingering 80s to winter. The proof is in the mittens, mufflers, wool caps, boots  and winter parkas popping up all over town. Even a quick sprint from parked car to supermarket entrance requires a bit of bundling. Waiting for a bus can be a challenge in this blustery cold weather. «Read the rest of this article»
The Clarksville Police Department will sponsor an "Operation Turn-Around" program fund-raiser, December 13, in front of Border's Bookstore at Governor's Square mall.
The fund-raiser will feature Eric "The Preacher" Yow's Trick Shot Madness  – An Artistic Pool Show.  Eric Yow is ranked 5th in the World in Artistic Pool Shooting.  Eric is a multi-talented Clarksville resident. He is lawyer with a local law firm, a Preacher, and a world class Artistic Pool Champion.  He will perform his impressive and, often amazing trick shot demonstrations beginning at: 11:30 (11:30 a.m.) , 13:00 (1 p.m.) and 14:30 (2:30 p.m.).  There is no admission charge to watch the demonstrations. «Read the rest of this article»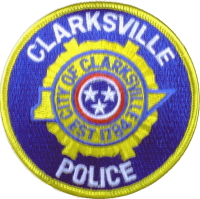 On December 9, a 23-year-old male was charged with Criminal Simulation and Resisting, Stop, Frisk, Halt, or Search .  Taken into custody  with a $6000 bond was Tony Reginald Stout, 23,  (B/M, DOB: 1/21/85), of 4008 King Circle, Nashville.
Officers responded to a call in reference to a counterfeit $100.00 bill being passed at a Riverside Drive business.  When officers arrived at the business, Tony Reginald Stout, came out of the business and exclaimed; "He didn't do nothing", and promptly took off running.  Officer Marvin Carnagey caught up to him within about a hundred yards of the business.  Stout had a $100.00 bill in his pocket with cut edges and a watermark consistent with a $5.00 bill.  The $100.00 bill Stout gave to the business to pay for food also had a $5.00 watermark.
Tony Reginald Stout was taken into custody and booked into the Montgomery County Jail. The arresting officer was Officer Tina Slaven.
Contact the Clarksville Police Department, 931-648-0656, if anyone tries to pass counterfeit bills.
The continuing hysteria about President-Elect Barack Obama's birth certificate has surfaced in Montgomery County in very disturbing ways. Comments to a news story about the Illinois Gov. Blagojevich have leaked over to include this subject. With all the evidence which has been presented on the matter, it defies logic that people are still clinging to these specious claims.
Hawaii birth certificates are not public records, as they are in other states. The Hawaiian Health Dept. Director and Registrar of Vital Statistics have verified that the health department holds Obama's original birth certificate. Furthermore, they have verified that he was born in Hawaii, and is a natural born US citizen. Lastly, Hawaii state law bars release of a certified copy of a birth certificate to anyone who does not have a tangible interest in it. «Read the rest of this article»
The  APSU Music Department's Christmas Holiday  concert, "Do You Hear What I Hear" opened to an overflow capacity crowd of enthusiastic music lovers. The buzz in the Music Hall's air  was infectious. It proved a perfect aperitif to the performance that would unfold.
The guest artist of the evening was acoustic guitar specialist, Paul Carrol Binkley, a renown musician in his own right, and president of Grand Vista Music. He has served as music director for the Tennessee Repertory Theatre, the Nashville Shakespeare Festival, the Mockingbird Theatre, the Nashville Children's Theatre and Coterie Theatre in Kansas City.   His artistry was delightfully blended with the talents of the  music faculty, resulting  in a simply sublime holiday music  showcase. «Read the rest of this article»