Kolacky. This traditional cookie has origins in the Slavic countries of Europe; I first sampled them when a friend's grandmother sent him a box for Christmas. Years later, his mom sent not just the cookies but the recipes from her family collection.
These light, delicate fruity cookies have innumerable permutations: any filling you choose, from a simple sprinkle of cinnamon, sugar and ground pecans, walnuts, or almonds, to  hearty berry, fig or currant filling is bound to please. The basic recipes are here; your imagination does the rest. «Read the rest of this article»
The holiday hustle is underway and analysts projections are this season will be busier than most. No one feels the pinch from shopping, parties and preparation more than moms and dads. That's why the Clarksville-Montgomery Red Cross encourages families and caretakers to look for trained and certified babysitters for their childcare needs.
Whether it's shopping for presents or the office holiday party, the demand for babysitters is sure to increase. But in order to feel more relaxed and secure, parents and caregivers need to have a sitter they know has been trained in how to care for the safety and well-being of their child. «Read the rest of this article»
Targets include book author, publisher, law professor Richard Epstein and newspapers that published book review. The eminent domain and redevelopment issues in this case, all of which have roots in the precedent setting Supreme Court Kelo vs City of New London (CT)  mirror issues that have arisen in Clarksville in the past 15 months, including a libel lawsuit against the grassroots Clarksville Property Rights Coalition.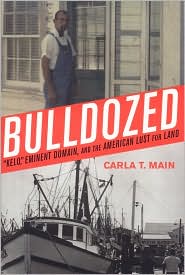 Dallas, Texas: In perhaps the most striking example of a disturbing national trend, Dallas developer H. Walker Royall has launched a lawsuit spree to silence any media or public affairs commentator who dares expose his attempted abuse of eminent domain.  Similar suits have been filed in Tennessee, Missouri and elsewhere by developers and governments looking to silence critics of eminent domain for private gain.
Royall worked with the city of Freeport, Texas, to try to condemn a generations-old shrimp business owned by the Gore family to make way for a luxury marina.  The project became the subject of the book, Bulldozed: 'Kelo,' Eminent Domain, and the American Lust for Land, authored by veteran legal journalist Carla Main.  «Read the rest of this article»