Shining Today — To Energize Tomorrow.
That slogan blazed across the stage as the vintage vinyl tune "Here Comes the Sun" played to a packed house at the APSU Communications Building Monday afternoon.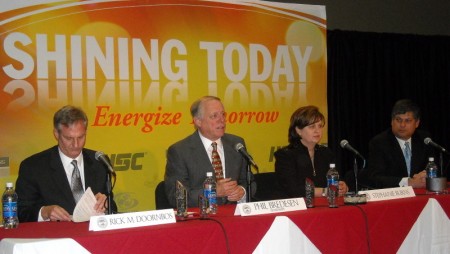 A "Who's Who" roster of state, county and local government officials  and business leaders from Michigan and Montgomery County gathered on the Austin Peay State University campus  for the "historic" official announcement of Hemlock Semiconductor Corporation and Hemlock Semiconductor LLC multi-billion dollar development at Clarksville's megasite in the northeastern edge of the city.
This is a "watershed of economic development in Tennessee," said Matt Kessner of the Economic Development Council. "New jobs  in the development of sustainable energy."
After a two-year global site search, Dow Corning and the Hemlock group opted to make an initial $1.2 billion initial investment in the construction of  a new polycrystalline silicon (polysilicon) manufacturing and development facility. Polysilicon is key to the development of solar industry. Groundbreaking on the new plant is expect early in 2009, creating  up to 1,000  jobs in construction and related crafts during the building phase; the facility is earmarked to open in 2012.
Tennessee Governor Phil Bredesen  joined Hemlock's CEO and President  Rick Doornbos in making the announcement. "It's the right company in the right community at the right time," Bredesen said of what will ultimately be a $2 billion investment.  "What they make is what has to happen to make solar energy. The numbers are staggering." Bredensen noted that t is not simply the immediate creation of new job but the ability to also attract related industries and  suppliers to the state and the region.
"This announcement offers solar industry leaders confidences that polysilicon supply will be available as the solar and electronics industries continue to grow and innovate. The exact scale of this investment will be determined by market conditions. Making this investment in today's volatile economic climate is a testament to both the long term outlook of the solar industry, as well as Hemlock Semiconductor's ability to add capacity to meet the needs of customers." — Rick Doornbos
Doornbos said his frm looked at "over two dozen sites around the world" before settling on Clarksville and cited the importance not just location but the community itself as key to the final decision.
Polysilicon is used in the production of everything from cell phone and computers to solar panels.  The total investment by Hemlock in Clarksville will be at least $2.5 billion and at its onset of production will initially produce  1o,000 metric tons of capacity at the site, with the potential to expand to a production level of 21,000 metric tons. When the site is ready in 2012, some 500 permanent jobs will be created, with a potential increase to 800 when expanded. Construction of the site will employ 1,000 workers  over a five to seven year period.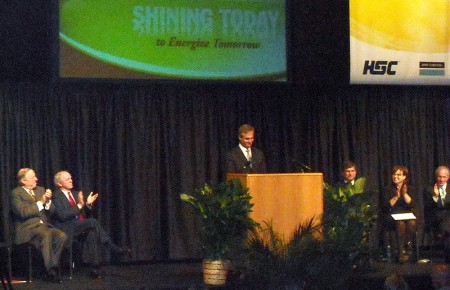 Most of the polysilicon produced at the Clarksville site will be consumed by firms in the solar industry but the facility will also be capable of producing pure silicon for the electronics industry as well as solar-grade material.  The energy required for polysilicon manufacturing will be recouped "eight to fifteen times over" in future use and applications, Doornbos said.
Stephanie A. Burns, Dow Corning's President and CEO, said her company was "committing our resources, know-how and technology because we are confident that solar technology represents a tremendous opportunity for both clean energy and economic growth.
In conjunction with this new industrial development, APSU has received a $6.4 million grant to develop and implement training programs in related fields from microbiology to engineering.
"We are (making this investment) for a 21st century America. We will retrain workers. We will encourage solar investment and call for a national commitment to environmentally responsible and renewable energy goals."
Clarksville Mayor Johnny Piper thanked the hundreds of people involved in bringing this industry to the city.
During the announcement, Hemlock and Dow Corning presented two checks of $25,000 each to the Clarksville-Montgomery County School System and to the Imagination Library as an indicator of the start of their investment in the social fabric of the community.
Partners in this business venture are:
Hemlock Semiconductor Corporation headquartered in Hemlock, Michigan. The company has produced high-purity polysilicon for over 45 years.
Henlock Semiconductor LLC is a newly formed venture between Dow Corning Corporation, Shin-Etsu Handotai, and Mitsubishi Materials Corporations.
Dow Corning Corporation is a global leader in polysilicon innovation and technology. Dow Corning of Midland, Michigan, which manufacturses more than 7,000 products and services, is a joint venture owned  by Dow Chemical Company and Corning Inc.