Cranberries. Once upon a time in American history they were called "Craneberries."  So many people walk past the basket of this hard red fruit, not quite sure of what to do with the berries, culled from watery bogs in places like Cape Cod, Massachusetts, the Canadian Maritimes, or in land-locked Wisconsin.
Cranberries are a group of evergreen dwarf shrubs or trailing vines found in acidic bogs throughout the cooler parts of the Northern Hemisphere. Cranberries are low, creeping shrubs or vines with wiry stems and small evergreen leaves. The flowers are dark pink.
Cranberries, a major commercial crop in certain American states and Canadian provinces, are processed into products such as juice, sauce, and sweetened dried cranberries, with the remainder sold fresh to consumers.
Cranberry sauce is regarded an indispensable part of traditional American and Canadian Thanksgiving menus and European winter festivals. According to the Economic Research Service of the United States Department of Agriculture, Wisconsin is the leading producer of cranberries, with nearly half of U.S. production. Massachusetts is the second largest U.S. producer, with over one-third of total domestic production.
Since the early 21st century within the global functional food industry, there has been a rapidly growing recognition of cranberries for their consumer product popularity, nutrient content and antioxidant qualities, giving them commercial status as a novel "superfruit". Canadians called them "mossberries" and a traditional English name for them was "fenberries."
Historically, cranberry beds were constructed in wetlands. Currently cranberry beds are constructed in upland areas that have a shallow water table. The topsoil is scraped off to form dikes around the bed perimeter. Clean sand is hauled in to a depth of four to eight inches. The surface is laser leveled with a slight crown in the center to facilitate drainage.  In addition to making it possible to hold water, the dikes allow equipment to service the beds without driving on the vines. Irrigation equipment is also installed in the bed.
A common misconception about cranberry production is that the beds remain flooded throughout the year. During the growing season cranberry beds are not flooded, but are irrigated regularly to maintain soil moisture. Beds are flooded in the autumn to facilitate harvest and again during the winter to protect against low temperatures.
Cranberries are harvested in the fall when the fruit takes on its distinctive deep red color. This is usually in late September or early October. To harvest cranberries, the beds are flooded with six to eight inches of water above the vines. A harvester is driven through the beds to remove the fruit from the vines. For the past 50 years, water reel type harvesters have been used. Harvested cranberries float in the water and can be corralled into a corner of the bed and conveyed or pumped from the bed. From the farm, cranberries are taken to receiving stations where they are cleaned, sorted, and stored prior to packaging or processing.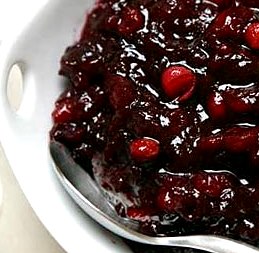 HOLIDAY CRANBERRY SAUCE
1 quart cranberries
1 cup water
1 3/4 cups sugar
citrus for flavoring (optional)
The general rule is: Use 1/4 as much water as cranberries. Add 1/3 as much sugar as cranberries.
Wash and pick over cranberries, discarding any that are soft. Bring water to a boil; add berries. Cover and cook over medium low heat until berries have burst outer skin.
Add sugar and boil a few minutes longer. If desired, cranberries may be strained before sugar is added. A few tablespoons of freshly squeezed orange or lemon juice may be added along with a little grated citrus peel, if desired. A tablespoon of frozen orange concentrate is also a nice addition.
CRANBERRY CHUTNEY
1 can whole cranberries
1 can cubed or chopped pineapple
1/2 cup chopped pecans or walnuts
1/4 cup finely chopped celery
1/2 teaspoon freshly grated ginger
1/4 teaspoon cinnamon
Combine all ingredients and chill several hours before serving.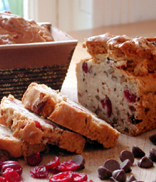 CRANBERRY – ORANGE NUT BREAD
The early settlers learned to cook with cranberries from the Indians of the Cape Cod area, who added cranberries and nuts to their corn breads. Cakes of dried venison and cranberries, called pemmican, were a mainstay of the Indian diet.
1 3/4 cups flour
3/4 c. sugar
1 1/2 tsp. baking powder
3/4 tsp. salt
1/2 tsp. baking soda
1/4 c. butter, softened
Juice and grated peel of 1 orange
1 egg
1 c. cranberries, chopped
1/2 c. chopped nuts
Heat oven to 350°F. Grease bottom of loaf pan, 9 x 5 x 3 inches. Mix flour, sugar, baking powder, salt and baking soda. Stir in butter until mixture is crumbly. Stir in orange peel (about 1 tablespoon), the juice of 1 orange and 1 egg. Stir only until the flour is moistened. Stir in cranberries and nuts. Spread evenly in pan.  Bake until wooden pick inserted in center comes out clean, 55 to 65 minutes. Loosen edges of loaf with spatula; remove from pan. Let stand at least 8 hours before slicing. If using self-rising flour, omit baking powder and salt. Reduce baking soda to 1/4 teaspoon.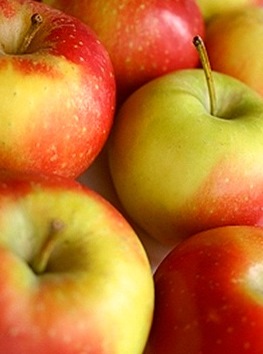 CRANBERRY APPLESAUCE
8 cups apples, peeled and cored (about 8 apples)
4 cups cranberries
3 cinnamon sticks (about 3 inches each)
2 whole cloves
2 cups sugar
1/3 cup cranberry juice
Slice apples. In a 3 quart saucepan, bring 1/3 cup cranberry juice to a boil; add apples, cranberries, cinnamon sticks and cloves. Stir and reduce heat to medium-low or until just a simmer. Continue to cook, uncovered for about 15 minutes or until the apples are just becoming tender. Add sugar, stirring until sugar dissolves. Cook for another 4 or 5 minutes. Remove cinnamon sticks and refrigerate. When cold, taste and adjust sweetness as desired.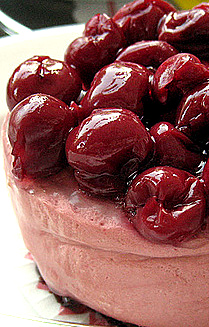 LIGHT CRANBERRY MOUSSE (Courtesy of Ocean Spray)
2 cups Ocean Spray® Light Cranberry Juice Cocktail
OR
Ocean Spray® Light Cran•Raspberry® Cranberry Raspberry Juice Drink
1 0.3 ounce package sugar-free raspberry-flavored gelatin
1 8-ounce can Ocean Spray® Jellied Cranberry Sauce
2 cups frozen non-dairy whipped topping, thawed
Prepared pie shell, optional
DIRECTIONS:
Heat juice to boiling in a saucepan. Remove from heat. Stir in raspberry gelatin until dissolved. Using a fork or wire whisk, mix cranberry sauce until smooth in a small mixing bowl. Stir into gelatin mixture. Chill until it begins to thicken, but not set. Gently mix in whipped topping, using a rubber scraper. Spoon into serving dishes or prepared pie shell. Chill until firm. Makes 8 servings.
WILD RICE CRANBERRY STUFFING (Courtesy of Ocean Spray)
2 slices bacon, chopped
2 tablespoons tablespoons butter or margarine
1/2 cup chopped onion
1/2 cup chopped celery
1/2 cup peeled, chopped carrot
1 cup sliced mushrooms
1 cup Ocean Spray® Fresh or Frozen Cranberries OR 3/4 cup
Ocean Spray® Craisins® Original Sweetened Dried Cranberries
2 cups chicken broth
4 cups cornbread stuffing
1 16-ounce package wild rice, cooked according to package directions
Cook bacon over medium heat in a stockpot until crisp. Remove bacon and set aside. Add butter to pan and melt over medium heat. Add onion, celery, carrot and mushrooms. Cook, stirring occasionally, for 8 to 10 minutes or until vegetables are tender. Add cranberries and chicken broth; bring to a boil over high heat. Remove from heat and add stuffing, wild rice and bacon. Serve immediately. Makes 14 1/2-cup servings.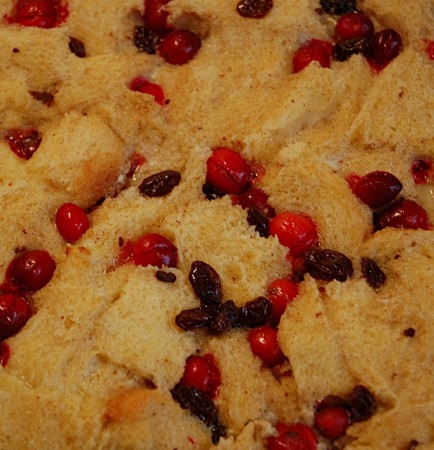 CRANBERRY BREAD PUDDING
6 cups toasted whole wheat bread cubes, packed
2 cups Ocean Spray® Cran•Raspberry® Raspberry Cranberry Juice Drink
1 cup honey
1/2 cup butter
1 teaspoon cinnamon
1/2 teaspoon nutmeg
1 cup raisins
1 6-ounce package Ocean Spray® Craisins® Sweetened Dried Cranberries
Whipped cream or vanilla ice cream, optional, for topping
Preheat oven to 350º. Grease a 2-quart casserole dish or pudding pan. Pour bread cubes in prepared pan; set aside. Combine all remaining ingredients in a large saucepan. Bring to a boil over medium heat. Remove from heat and pour cranberry mixture over bread cubes. Let sit 15 minutes. Bake pudding for 45 minutes. Serve warm with vanilla ice cream. Makes 10 servings.