Belmont University is a fairly close neighbor to the residents of Clarksville; it's only a 45 minute drive to the campus. It's  reknown for its academic standards and is ranked annually as one of the state's and the nation's most outstanding educational institutions.
Belmont University brightens our lives and renews hope through its music and education programs. throughout the year the students and faculty give performances that re unequaled in quality. Their tradition of blessing the community with music is especially realized during the Christmas season. «Read the rest of this article»
The familiar voice of the 'USS Starship Enterprise' has been stilled.
On Thursday, Majel B. Roddenberry, widow of "Star Trek" creator Gene Roddenberry, died at her home in Bel Air, after battling leukemia. She was 76.
Leonard Nimoy, who played Mr. Spock on "Star Trek," said, "She was a valiant lady. She worked hard, was straightforward and was dedicated to 'Star Trek' and Gene and a lot of people thought very highly of her."
Dubbed "The First Lady of Trek" by the Chicago Tribune, Majel Barrett Roddenberry was associated with "Star Trek" from the very beginning. In the original TV pilot, she played a leading role as Number One, the first officer who was second in command. «Read the rest of this article»
Christmas shopping. I did a bit of it on Sunday — for Christmas, 2009.
In the absence of throngs of shoppers at many stores, I found myself eyeing lovely $8.00 boxes of holiday greeting cards (18 per box) for a mere $1.60 a box. Lovely extra ornaments (box of 24 in the colors and finishes I love) also $1.60. Another snowman for my collection: 67 cents. A funky purple hat and a funkier stuffed turtle  for one granddaughter, total price $1 each. Even the suet cakes for my bird feeders were discounted to 50 cents apiece. Half price. And this was Sunday, the last weekend shopping day before Christmas. «Read the rest of this article»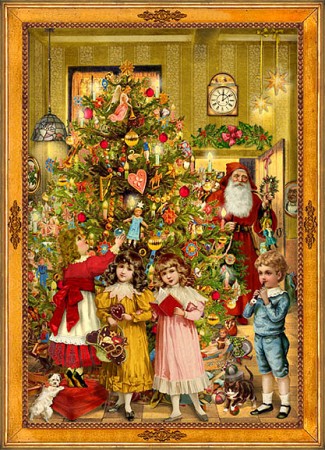 As a child, I would awake on Christmas morning, scurrying out of bed to see what treasures Santa had left under the tree. With a flurry of gift-wrapping shredded and ribbons uncurled, I opened boxes that contained clothes, puzzles, games, a slinky one year, a large raggedy doll another. Sleds, those flexible fliers with the metal runners, the crossbar and its rope "handle" that allowed the illusion of steering on the way to the bottom of a snow-covered hill.
Several years after my father left, one of my our family friends and his sons brought us a tree — a frothy thing with tiny pine cones and a strong scent of pine. It was a wonderful tree.
And in the first year I met my stepfather, we shared dinner; by morning the previous night's storm had become a Christmas Day blizzard. I raced into the living room to see a hefty man with the stubble of a white beard, sleeping on our couch. I knew it couldn't be Santa, but for a moment… «Read the rest of this article»
Winter is officially here, whipping in at 6:04 a.m., and while today may be cold, tomorrow (December 22) will be brutally cold.
According to the National Weather Service, which issued a special weather statement this morning,  a cold arctic air mass is about to sweep into the mid-state region bringing with it the coldest temperatures in six years by Monday morning. That statement includes a forecast for dangerous wind chill levels. While northern folks are used to such frigid weather and ready for it, Tennesseans are going to have bundle up in a way that they are not used to.
A predicted northwest wind gusting to near 30 mph this afternoon  and temperatures will be hard-pressed to hit the 30 degree mark. Wind child readings (the "feels like" temperature) will dip into the teens, falling into single digits across much of the region.  Wind chill readings could hit -5 — yes, five below zero. A wind chill advisory could be issued later today. «Read the rest of this article»