Although announced earlier this year as a project ready to get under way, the proposed Clarksville TEPPCO Refined Products Storage Terminal has yet to begin site construction. The project has not yet applied for a US Army Corps of Engineers Permit. This delay is unexplainable from the USACOE standpoint. While they have yet to receive the application, they do expect it to be submitted by year's end (ten days from now).
According the USACOE, the permit process will be the same for the TEPPCO terminal as the Clarksville Marina Fairgrounds Redevelopment Project. Upon receipt of a complete application, an application review will be conducted, a public notice will be issued and public comment period would be declared where public questions, objections and concerns will be studied. Following the resolution of the public comment and issues, an environmental assessment will have to be conducted and any issues and concerns resulting from that analysis would have to be resolved. The USACOE would then consider issuing a permit. «Read the rest of this article»
Representative named to fill post vacated after November elections
Nashville, TN—On Thursday, the office of Tennessee Speaker of the House Jimmy Naifeh (D-Covington) announced the appointment of State Representative Joe Pitts (D-Clarksville) to the Joint Committee on Workers Compensation.
"I am honored that Speaker Naifeh has given me this opportunity to serve on the Workers Compensation Committee," Pitts said. "Serving on this committee will give me the chance to serve all the workers of Tennessee." «Read the rest of this article»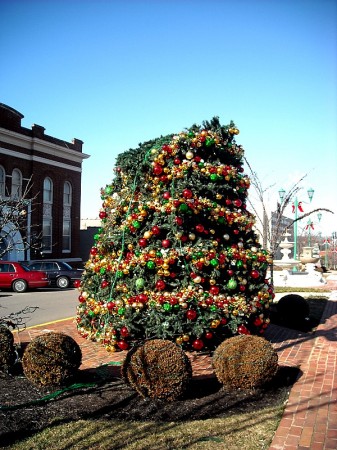 Recent high winds wreaked havoc on home decorations, whipped loose branches off trees, and also toppled the top of the city's elegant Christmas tree on Public Square.
The stately tree, festooned in an elaborate and sumptuous garland of ornaments and lights,  graced the city's downtown district and has been a focal point for  holiday celebrations.
Today, the tree sits humbled on Public Square, its dramatic height sheared in half, pared down  to a flat- topped  stump of what it was just a few days ago. A tangle of wires spill down one side.
«Read the rest of this article»
The annual exhibit of holiday trees at the Smith-Trahern Mansion on McClure Street is underway, offering visitors a glimpse of history and some new twists on stylish decor in keeping with the mood and design of the home.
Built in 1858 by wealthy tobacconist Christopher Smith, this masterpiece overlooks the Cumberland River. Constructed during the troubled Pre-Civil War era, the home reflects the transition between Greek Revival and Italianate styles, which were so popular at that time. The home boasts grand hallways, an exquisite curved staircase, and a "widow's walk" on the roof. In March 1988, that Mansion was placed on the National Register of Historic Places. «Read the rest of this article»