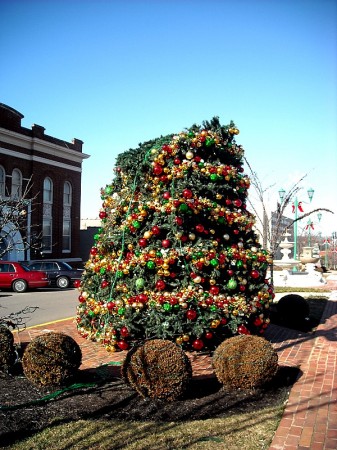 Recent high winds wreaked havoc on home decorations, whipped loose branches off trees, and also toppled the top of the city's elegant Christmas tree on Public Square.
The stately tree, festooned in an elaborate and sumptuous garland of ornaments and lights,  graced the city's downtown district and has been a focal point for  holiday celebrations.
Today, the tree sits humbled on Public Square, its dramatic height sheared in half, pared down  to a flat- topped  stump of what it was just a few days ago. A tangle of wires spill down one side.
A spokesperson for the Parks and Recreation Department said the pole supporting the tree was snapped by high winds, and was unsure exactly when the tree could be repaired. "Hopefully in time for Christmas" was the speculation.
The holiday season traditional runs through 12th night (January 6), which leaves 16 days to the holiday season. We hope to see the tree restored to its original towering beauty in time to illuminate the remainder of the Christmas holiday season.
Photos by Kelly Anne LaPlante