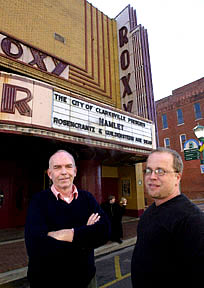 In the current economy, many charities are facing bleak prospects for the coming year. End-of-year donations serve a dual function: boosting  the bottom lines of non-profits dedicated to assisting  people or meeting specific community needs, and giving donors the opportunity to make tax-deductible contributions that can be applied to their 2008 taxes. Over the next week, we will profile a number of community agencies and organizations who can benefit from your generosity.
The Roxy Regional Theatre is much more than an entertainment venue; it is a teaching tool that brings live professional performance the thousands of school students throughout the year, and also provides an educational component via acting/theatre calsses for young people.
This non-profit theatre with more than a quarter of a century of performance in Clarksville is sustained by the creative energies of John McDonald and Tom Thayer, a tireless duo who maintain a non-stop year 'round schedule of large productions on the mainstage and smaller performances in the second floor theatre, "the other space."
From classics and popular scripts to adaptations (many done by John McDonald),  to staged reading such as Mary Alice's Ladder by local professor Barry Kitterman (in the otherspace ),  the stage may be dark to audiences a few days a year, but inside, sets are being built, line read and rehearsed, choreography paced out, and the chaos of overlapping productions and productionsin-progress tamed.
Improvements to the theater in recent years includes new seating, and a major fundraiser is underway to fund an expanded Roxy performing arts center in downtown Clarksville. The contributions — educational, creative, and entertaining — this theatre group have made to the community are immense and worthy of your support.
For more information about how you can help support the Roxy Regional Theatre with a tax-deductible contribution, call Tom Thayer or John McDonald at the Roxy at 931-645-7699 during box office hours, Monday through Friday from 9 a.m. to noon.