The Clarksville Montgomery County Chapter of the American Red Cross wants you to know "you've got the power."
Learning basic first aid and CPR/Automated External Defibrillator (AED) can quite possibly mean the difference between life and death for someone suffering from Sudden Cardiac Arrest (SCA) or other medical emergency.  The  local Red Cross advises that being able to administer first aid and CPR/AED during the first few minutes of a medical emergency is crucial to the survival and recovery of a victim.  Having these skills allows you to become a vital first responder when help is needed.
"The Red Cross wants the public to know that everyone has the power to save a life. At least one person in every household and on every office floor should be trained and certified in first aid and CPR/AED," says Patricia Brown, Health and Safety Director of Clarksville-Montgomery Red Cross. "On average, it takes emergency personnel 12 minutes to arrive on scene. For someone who is choking or has stopped breathing that may be too late. By learning simple rescue skills, you can go from a helpless bystander to a person with the ability to take control help someone during an emergency."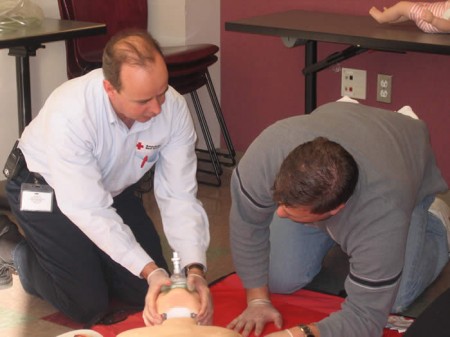 First aid and CPR/AED are commonly taught to everyday people who may be the only ones able to respond during the crucial first few minutes of an accident or medical emergency. Nearly everyone is capable of learning and becoming certified in first aid and CPR/AED.
Becoming trained and certified in first aid and CPR/AED gives the average person the knowledge and skills essential to lessen the effect of injury or sudden illness and helps sustain life until professional responders arrive.
Each year, roughly one million people in the United States suffer from SCA – almost half will die as a result. Being able to perform CPR or use an AED early on is crucial in preventing brain damage and will greatly increase a victim's odds for survival.
First aid and CPR/AED can not only be used when SCA strikes, but can also help save victims of drowning, electrocution, accidental poisoning, suffocation and drug overdose.
The most effective way to learn first aid and CPR/AED is to participate in hands-on training courses taught by a certified Red Cross instructor.  While quick-overview videos and courses help you to become familiar with safety training; attending certification courses under the supervision of a qualified instructor is the best way to obtain the skills and confidence needed to successfully perform first aid and CPR/AED.  And, in order to remain confident and keep skills current, it is recommended that you attend refresher courses and be re-certified yearly.
The Red Cross offers thorough and flexible training programs, from classrooms to online, which help you prepare for emergencies and life-threatening situations.  Courses are available for administering help to infants, children and adults, as well as, for fulfilling training requirements for workplaces, and for professional rescuers.
To find out how you can have the power to save a life, contact the Clarksville-Montgomery Chapter at 931-645-6401or visit www.clarksville.redcross.org for more information on the variety of health and safety courses being offered.