The Montgomery County Legislative Delegation gained a new member Tuesday morning. The State Senate held swearing-in ceremony for the new members amid pomp and circumstance.
Tuesday morning marked a change in Tennessee political and legislative history. For Montgomery County, it marked a new name joining our legislative delegation. As the State Senate was called to order, the new members of Senate stood and took their oath of office. With his family watching, Clarksville Attorney Tim Barnes raised his hand and swore his commitment to the people of this state, its laws and governance.
Attending the swearing-in ceremony, the Barnes Family looked on as Attorney Tim Barnes became Tennessee State Senator Tim Barnes, District 22. The chamber was filled with family, friends, supporters and colleagues. The atmosphere was filled with anticipation and drama at what the moments to come would herald.
"There are not any words to express how honored I am to be serving the citizens of Cheatham, Houston and Montgomery county," Barnes said, "I ran for this office to help the working families of the 22nd District, and I intend to get to work immediately doing just that."
Following the swearing-in, the Senate was in recess while a committee that included Barnes reported to the House and the Governor that the Senate was formed  and ready to conduct business.
Having  reporting to the Governor, the Speaker returned to gavel and called the Chamber to order. The first order of business was approval of a Senate Joint Resolution of a Motion to Adopt, followed by approval of Introduction of Senate Bills One to Fourteen and Senate Resolutions One to Nine. Lt. Governor Ron Ramsey  appointed Senators Norris, Kyle and McNally to the Senate Select Committee to review the annual state audit of the Comptroller of the Treasury. The senate then adjourned to reconvene tomorrow morning at 9 AM.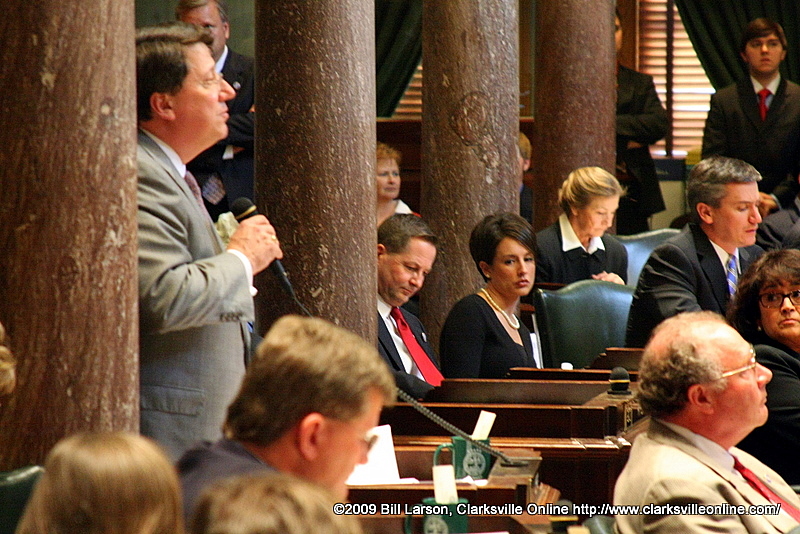 Barnes, who already has a legislative office fully staffed in Nashville, asks any constituents who have concerns on any issue to contact him immediately at 615-741-2374 or email at sen.tim.barnes@capitol.tn.gov.
Items of Interest
Items of interest in the introduced bills and resolution include a bill pertaining to election laws which would require voters to present qualified photographic identification before voting (voters without proper identification shall be allowed to cast provisional ballots), and a second bill requiring identification and proof of citizenship for voter registration along with photographic identification to vote. Provisional ballots would be provided to voters without proper identification. A third bill eliminates the residency requirement to be a police officer in a law enforcement agency employing 2,000 officers and any violation results in the agency's loss of revenue derived from forfeitures, confiscation, and seizures.