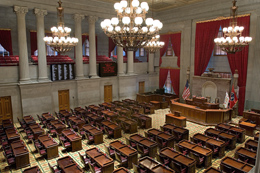 Tennessee House Republican leadership takes the top spot. Party designate and presumed standard bearer, Rep. Jason Mumpower, was outmaneuvered by a Republican moderate they had threatened with economic boycott and House Democrats.
Marking the end of a forty year shut-out, the Tennessee Republican Party made history by taking up the leadership of the Tennessee House of Representatives. Rep. Jimmy Naifeh relinquished his 18-year reign as Speaker of the House as the Republican Party asserted its 50-vote majority and nominated Rep. Jason Mumpower as Speaker.  Rep. Gary Odom, D-Davidson County, over loud catcalls from colleagues and spectators, nominated Rep. Kent Williams, R-Carter County, as an alternate candidate.
The voting was done by roll call. With Williams being the last name on the roll, anticipation was high as the Republicans waited to see if Williams would keep his pledge to support the party and vote Republican, as all the Democrats cast their votes for him.
In a stunning upset that saw Rep. Mumpower red-faced, and howls and boos erupting in the House Chamber that carried out into the hallway and into the Senate Chamber, Kent Williams supported his party, voting for himself, denying Mumpower the Speaker position and becoming Speaker of the House of the 106th Tennessee State Legislature.
Prior to the opening of the legislative session, the Republican Party had held a caucus to marshal its members into a solid voting block behind a set list of candidates for all House leadership positions that would lock out the Democrats and support pre-determined legislative priorities for the new term. They were reportedly determined to replace Jimmy Naifeh as House Speaker. Nashville news media have reported that party members came down especially hard on Rep. Williams to support legislative initiatives he felt to be extreme. They went so far as to threaten a boycott of his family business.
With the voting over, Williams was declared the new Speaker of the House, duly elected. After taking the oath-of-office, Speaker Willams has stated that the welfare of the people of Tennessee comes first and that he will be fair in distributing committee appointments and chairmanships. He will favor his party but there will be Democratic appointments and job skills and ability will take higher priority than party affiliation.
Following his acceptance speech, the House went into recess to allow both parties to caucus and consider their follow-up action and strategy for the positions of House Speaker Pro Tempore and Deputy Speaker.