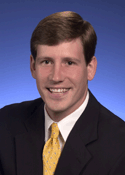 MEMPHIS – (R-Germantown) filed an Ethics Complaint today against Speaker of the House Kent Williams for Williams's acts of sexual harassment and for making a false statement to the public regarding the allegations.  Rep. Kelsey filed the Complaint directly with Speaker Williams this afternoon via e-mail.
It was revealed yesterday that on March 27, 2007, Williams solicited a sexual act from Rep. Susan Lynn in the legislative parking garage, telling her, "I will give a week's pay just to see you naked."
A memo written by Rep. Susan Lynn chronicles that Williams admitted the charge of sexual harassment, apologized to Rep. Lynn, and was reprimanded by Leader Mumpower.
Yesterday, Speaker Williams issued a public statement, saying, "I have never sexually harassed anyone nor have I been reprimanded for any such behavior."
"Speaker Williams's actions of sexual harassment were bad enough to begin with.  Denying that the events ever occurred, in effect calling Rep. Lynn a liar, is like spitting in the face of his victim," said Rep. Kelsey from his law office in Memphis.
Rep. Kelsey continued, "Speaker Williams issued a false statement with the intent to deceive the public.  This type of dishonesty to the people of Tennessee is totally unacceptable from the leader of the House of Representatives."
Rep. Kelsey has been a leader on issues of ethics throughout his four-year tenure in the House of Representatives.  He was the first member of the General Assembly to call for public hearings on whether indicted legislators should keep their seats in the wake of the Tennessee Waltz scandal,  and he introduced thirty-three amendments to strengthen the ethics bill in the special session on ethics in 2006.  He has been a vocal proponent of closing the loophole in the lobbyist gift ban for legislative receptions.
This is a link to the Ethics complaint:  http://docs.google.com/gview?a=v&attid=0.1&thid=11efb46e35d36ddf&mt=application%2Fpdf