Most of our Tennessee December temperatures threatened ice and snow, but surprise; two days after Christmas and we were in the 70's.  A few of us decided to go with Dan Rachlin as he tried out his new (to him) kayak and also to enjoy this, oh too warm, December weather.  Six of us went to Sycamore Creek near Ashland City.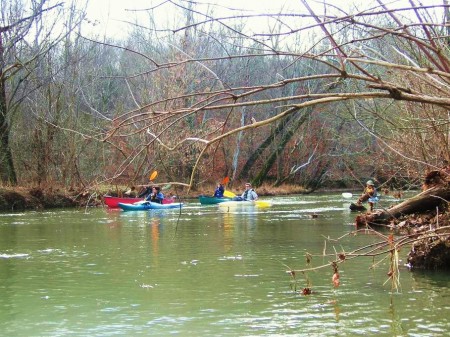 The water was frigid, as tested out by me when I immediately fell in while pushing off my kayak.  I've pushed off my kayak hundreds of times so falling in like that seemed kind-of (all-the-way) stupid.  Just to keep me company, Kerry's little dog fell in also in a separate incident and shortly after me.  Kerry's dog had Chihuahua-like leg shaking for awhile but we were both fine and the air was so warm that I chose to kayak in wet clothes and was totally comfortable.   Wet clothes, on the river, two days after Christmas.  That's warm.
Mental note:  for winter boating always bring along a spare pair of clothes.  I had done that this time thinking that Dan might fall in.  I teased him about falling in; telling him that I had brought my camera.  My instant karma is always entertaining for somebody.
Though I could immediately stand up after I fell in, it took several seconds to be able to breathe; the cold water seemed to have made my lungs stop working.  I stood there gasping while the guys were in disbelief that I had actually fallen in.  My body was panicked, my brain had little power over it while it could not breathe.
Made me think morbid thoughts like what it would be like to fall in the ocean or to be out in the middle of the river not being able to breathe.  But those thoughts involved wearing a life jacket.  What about falling in without a lifejacket?  Even here in the small river, I can imagine my body so shocked and paralyzed by the cold that I might not be able to save myself.  I might not be able to think, which is what I felt like in the moments when my body was grasping for air.  This scenario is a very real danger.
I remember back to the life saving techniques we were taught in high school.  Never, never swim up to a drowning person, they told us.  They will climb on you and hold you under with incredible strength.  Throw them a life preserver instead.  Well, yeah, I can understand why even I might climb on top of someone.
I've seen many adults in boats with no lifejackets on.  Sometimes kids have lifejackets on though their adults don't (kids will eventually copy by example).  So what if the adult falls in and the kid trys to save them?  Morbid.   I can't help but think back to stories of someone drowning trying to save someone else.  Nobody talks about how the drowning person might accidentally act.
Wisdom lesson:  Wear lifejackets when you get in a boat.  No matter what.  Show children through example.  Yeah, nobody wants to feel "restricted" like how we resisted wearing seatbelts.  For our family's seatbelt lesson we rode in the old truck, which didn't have seatbelts, just down the road.  Driving at practically a crawl another car whipped in front of us and David slammed on the breaks.  Both our kid's heads hit the dashboard in a split second.  There was no stopping it.  I insist that everyone riding in my car wears a seatbelt to keep them alive and because if an adult starts flying around in my car, I am going to get hurt.  We never think about ways to excuse ourselves from wearing lifejackets, we always wear them and we're used to it.
Falling in the water was actually exhilarating once I could breathe again.  Never mind the time I wasted feeling like a dope.
Boating in the winter is beautiful (without the bugs and poison ivy) and the foliage is down so you can see things you couldn't see before.  You can walk places you can't walk in the summer.  Kerry tried some fishing.
A great blue heron took off above us while we paddled and we saw a huge one when we were driving away for the day.  A red-tailed hawk rose in the air above us and circled higher as another red-tailed hawk screeched his disapproval.   Down a more secluded fork in the river I saw many turtles (red-eared sliders) out and sunning themselves.  I never thought I'd see turtles out in December but then I'm usually not kayaking in December in 70 degree weather.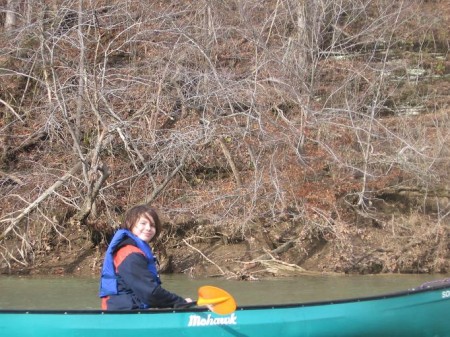 Kerry's son, Nathaniel, managed a canoe by himself.  Put any kid in a smaller kayak and they can usually act like a pro within minutes but I wouldn't guess that about canoeing.   Canoeing seems like a definite two person operation.  Person in front provides the power, person in back steers.  Nathaniel and his dad both use kayak paddles to manage their canoes.
I picked up a few pieces of driftwood to perhaps make art with.  It was another fine outing in Tennessee.