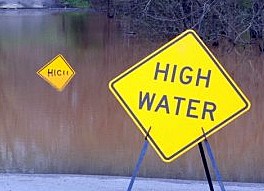 The National Weather Service has issued a flood warning for the Red River near Port Royal, affecting Montgomery and Robertson counties.
Heavy rains have caused the Red River to rise even though the rain has ended. River readings exceed flood stage.
Residents of the affected areas along the river are advised to seek higher ground and move personal belongings to safe locations.
The NWS urges motorists not to drive through flooded roads as the depth of the water may be too great to pass safely, and roads beneath the water may be damaged. "Turn around, don't drown" is the byword of the day.
Stay tuned to your NOAA weather radio for further alerts and information on the latest stages and forecasts, or log onto the NOAA website .
Flooding is expected to continue for this area through Thursday morning. At 3 p.m. Wednesday, the stage was 32.2 feet. Minor flooding has already occured and will continue to occur. The river is expected to rise to 33.5 feet by tonight, abd will fall below flood stage after midnight on Thursday.
At 30 feet, flood waters will inundate bottom land and low-lying areas along Port Royal Road near Port Royal State Park.