'Faith-Based' funds were misused by Bush administration, Church-State watchdog group says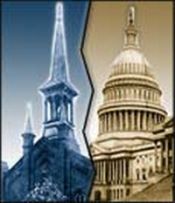 The U.S. Senate should not go along with a House plan that provides $100 million in "faith-based" funding as part of the federal economic recovery package, according to Americans United for Separation of Church and State.
HR 1, the measure approved by the House yesterday, includes a $100 million appropriation for the "Compassion Capital" Fund (CCF), a key component of former President George W. Bush's faith-based initiative.
Americans United officials say CCF money was allocated by the Bush White House without adequate oversight or civil rights and civil liberties safeguards. Administration officials also misused the fund to help political candidates and directed cash to their Religious Right allies. (TV preacher Pat Robertson's Operation Blessing, for example, was given a grant.)
Said the Rev. Barry W. Lynn, Americans United executive director, "I am disappointed that the House included funding for the so-called 'compassion capital' program. I hope the Senate refuses to go along with this."
Lynn noted, however, that he is pleased with other aspects of the House's American Recovery and Reinvestment Act of 2009.
Americans United's legislative team successfully worked with House members to ensure that problematic faith-based provisions did not apply to the overall economic recovery bill, Lynn said. That's an important victory, he asserted, in preserving civil rights and civil liberties.
The House stimulus bill also provides broad funding for public school renovations, he continued, but specifically forbids the use of federal money at religious schools or houses of worship.
"I think House members were sensitive to the First Amendment's church-state separation mandate when they restricted public funds to use at public schools," Lynn said. "I just wish they had carried that constitutional commitment forward and dropped funding for the much-abused Bush 'faith-based' scheme."
About the Author: Americans United is a religious liberty watchdog group based in Washington, D.C. Founded in 1947, the organization educates Americans about the importance of church-state separation in safeguarding religious freedom.