Fort Campbell is serving as a National Logistics Staging Area for Federal Emergency Management Agency trucks and supplies sent to Western Kentucky as a result of the recent ice storms, which have left hundreds of thousands of our Kentucky neighbors without power or water.
Between midnight and 8 a.m today, 24 semi-trucks of supplies, including water, generators and Meals Ready to Eat, arrived at a secure location on Fort Campbell. By mid morning, the trucks had moved on to critically hit areas in Western Kentucky. Fort Campbell will continue to serve as a staging area as long as resources are being provided in response to the incident. «Read the rest of this article»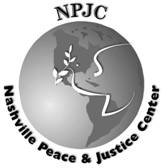 NASHVILLE,  TN:  On Wednesday, February 4th Ralph Hutchinson will address a public meeting of the organizations Veterans for Peace and the Nashville Peace Coalition on Wednesday, February 4, to call on Tennesseans to join in non-violent action for peace and disarmament in Oak Ridge on April 4.
Hutchinson is the executive director of Stop the Bombs, a twenty-yearoold organization in Oak Ridge, Tennessee, which has organized a continuous presence outside of the Y-12 nuclear weapons plant calling for a complete shutdown of the nuclear facilities and thorough environmental clean up of the Oak Ridge bomb plant.  His presentation will be given on the grounds of the Nashville Peace and Justice Center at 4732 W. Longdale Drive.  The public is invited to attend this event beginning at 6pm.  «Read the rest of this article»
ALTAR BOYZ will be making its regional premiere at the Roxy Regional Theatre, Clarksville's oldest professional theatre, on Friday, February 6, at 8pm.
A foot-stomping, rafter-raising, musical comedy about a fictitious Christian boy band on the last night of their national "Raise the Praise" tour, ALTAR BOYZ is the longest running new musical comedy to open in New York in years.
A foot-stomping, rafter-raising, musical comedy about a fictitious Christian boy band on the last night of their national "Raise the Praise" tour, ALTAR BOYZ is the longest running new musical comedy to open in New York in years. «Read the rest of this article»