DAC will host its February ArtWalk Thursday, Feb. 5, from 5-8 p.m.  Cliff Whittaker comments on the current exhibit: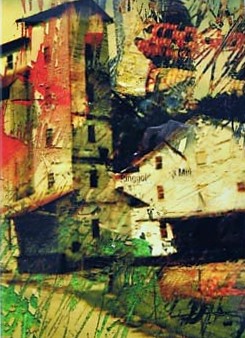 A new and exciting perspective on photography is about to be presented at the Downtown Artists Co-op located at 96 Franklin St. in beautiful downtown Clarksville.  In fact, that's what it's called:  An Alternative Perspective.  And, it features the work of long-time and highly respected DAC member Beverly Parker.
Beverly has developed a technique of manipulating original Polaroid images into scenes of artistic beauty and wonder.  She punches, scrunches and squiggles the emulsion of the original Polaroid photograph and then adds bits and pieces of images and 3-D items to enhance the effect.  There is more, but I'm not going to give away all of the secrets of the process.  You will have to come to the Downtown Artists Co-op gallery located at 96 Franklin St. to view the finished results.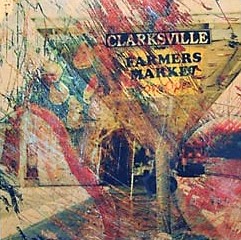 Beverly has more than 20 of these pieces on exhibit and they range in size from about 11×14-inches to an eye-popping 4X6 feet.  You will be able to recognize certain background scenes such as the railroad depot, the Customs House Museum and many other places around Clarksville,  but you won't believe the unusual and beautiful art work that Beverly has created from these scenes.
The opening reception will be Thursday, February 5, from 5 – 8 p.m. at the DAC gallery.  You will have a chance to talk with Beverly about her work and enjoy refreshments and mixing with other DAC patrons.  Her work will be on exhibit at the gallery until February 28.