In the apparently ongoing uproar over the newly elected House Speaker's continued and unrepentant presence in the Republican Party, harsh feelings persist.
In an unprecedented move, Republican Lt. Governor and Speaker of the Senate Ron Ramsey has told his fellow Republican, House Speaker Kent Williams, that he ought to quit the Republican Party. «Read the rest of this article»
It's a lot harder than it looks…
I admit it, I used to be "that guy." I was the guy in the stands screaming at the officials. "Are you blind?" "You are the worst ref I've ever seen!"  "How much are they paying you!?"
Of course, this ref was only the worst I'd ever seen until the next  person came along. These were all common phrases for me at every game I went  to … until I tried it. Boy, was I in for a big surprise; as I quickly found out, officiating is a lot harder than it looks.
I'll be the first to admit it, I've missed calls, and I've been in games with other officials missing calls, and while "the best officials" up in the stands always wanna help out, believe me when I tell you — WE KNOW WHEN WE MISS IT.
It doesn't matter how much you think you know about a sport or how good you think you are at playing it, until you put the stripes on and do it, you will have no idea how difficult is actually is. I have asked this question of several people, and while they are happy officiating from the stands, they always seem reluctant to put their "expertise" to practice. «Read the rest of this article»
To whoops and cheers from the crowd in a half-time ceremony at the  game Thursday night, APSU retired the jersey of basketball great James "Fly" Williams. The crowd at the Dunn Center went wild.
William's jersey plaque was placed on the north wall of the Center, a sports arena years after Martin put APSU on the sports map.
Williams expressed his appreciation to the SRO crowd and thanked former coach Lake Kelly and his teammates from 1972-73 and 1973-74 seasons. APSU lost the game with Martin in an overtime decision, 87-82, dropping APSU to 12-10 in the Ohio Valley Conference. «Read the rest of this article»
Amidst economic and other problems in America we've forgotten and abandoned Darfur.  Simon Deng, a former slave and native of Southern Sudan, was pleading with listeners to continue to take action to stop the genocide in Darfur during an event held at APSU.  He said, "I'm a voice for the voiceless" and encouraged everyone to "Do your part".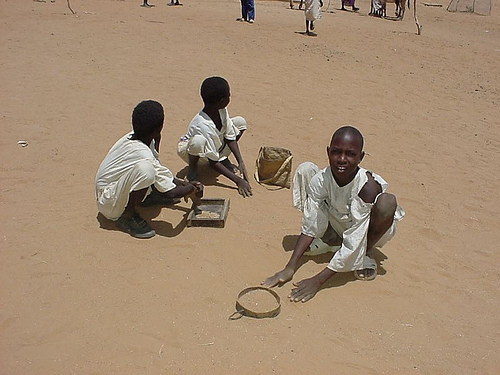 What can we do?  According to Deng, one of the most important things we can do is to send a short note or email to our senators and representatives requesting that they take action to help the people of Darfur. Former Senator Paul Simon of Illinois said after the 1994 Rwandan genocide: If each member of Congress had received just 100 letters urging action, that would have been enough to get our political system to respond. «Read the rest of this article»
Fort Campbell and Army Corps of Engineers officials are scheduled to break ground on a new Criminal Investigation Command (CID) facility in a ceremony at 8:30 a.m. Tuesday.
The new facility will be adjoined to the current facility on Indiana Avenue and is scheduled to be complete in October.
The annex will nearly double the current square-footage of the current CID offices which were built in 1983. Renovations will be made to the current facility as part of the overall project, costing $3.8 million.
Daniel Charles Hetzner (W/M), 28, of 2854 APT B. Cobalt Drive, Clarksville, was charged with two counts of burglary with Bond of $20,000.
On February 5, at 11:15 p.m. officers responded to a call about a person being detained for breaking into a vehicle. Two citizens, Cory Bailor and another person who wished to remain anonymous, saw Hetzner removing property from inside of a 1994 Ford Explorer on Terminal Road. When they confronted Hetzner, he took off running. They chased Hetzner and caught him in an apartment complex on Cobalt Drive, holding him until Police arrived. «Read the rest of this article»
College students are well aware of the state's tight money situation. However, collegiate forces are mobilizing to express their dismay and concern over proposed changes which jeopardize the continued expanded access to higher education.
A protest rally has been called for Monday, February 9th, when the general assembly is scheduled to return to session at Legislative Plaza. The Tennessee Board of Regents, aka [TBR], reforms previously announced to the media are the focus of the rally.
The Funeral for Tennessee  Higher Education will kick off from 1203 9th Avenue North in Nashville for a march to the state capitol with the intent of showing your students that you support their education in the classroom and out. «Read the rest of this article»