Senate made the right call in rejecting reckless religious right overture, says Church-State watchdog group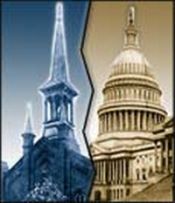 Americans United for Separation of Church and State today hailed a Senate vote rejecting tax funding for religious facilities in the economic recovery package.
"The Senate has voted to reaffirm an important American principle that religious groups should pay their own way and not expect funding from the taxpayer," said the Rev. Barry W. Lynn, executive director of Americans United.
The 54-43 vote came after Religious Right groups began complaining that the proposed economic recovery bill (H.R. 1) was hostile to religion. In fact, the legislation merely states that tax funds used for school construction and rehabilitation may not be diverted to religious institutions. «Read the rest of this article»
The victim of the aggravated child abuse,  Keegan Andrew Metz, a 23-months-old boy,  died yesterday at Vanderbilt Children's Hospital as a result of his injuries.
Joshua Ryan Starner,  who over the weekend was with aggravated child abuse with a bond of $1,000,000, remains in the Montgomery County Jail and now faces a charge of murder in the death of this child. Homicide charges are expected to follow.
Starner (W/M), 21,  of  100-D Ballygar Street, Clarksville, was initially charged with aggravated child abuse with a bond set at $1,000,000. Starner is reportedly a soldier stationed at Fort Campbell.
On February 7, at 12:45 p.m. Clarksville police officers responded to a ambulance call about an unresponsive two-year-old at 100-D Ballygar Street.  An investigation was opened due to the nature of the 23-month-old's injuries. «Read the rest of this article»
Win some, lose some. It's a fact of life in the Washington wheeling and dealing on legislation, including bail-out and "economic recovery" bills.Every proposal begins with comprehensive "needs" and gets whittled down to what should be a manageable size. Or in this case, what will hopefully be the bare essentials to jumpstart cities, towns and businesses across America. Many items did not make the Senate cut.
Here, as presented in Daily Kos and courtesy of Senator Pat Leahy's office, is what the Senate compromise proposes to ax in the American Recovery and Reinvestment Act of 2009: «Read the rest of this article»
The 13-year marriage of longtime House Speaker Jimmy Naifeh and longtime lobbyist Betty Anderson has ended.
According to the Knoxville News Sentinel, the marriage, which sometimes raised controversy for the former speaker, has ended quietly and amicably. Both parties confirmed in separate interviews that they divorced in a Tipton County court in July. They did not announce the divorce. Anderson said she was surprised that no media picked up the story.
Queried if the parting was on good terms, Naifeh replied "Very much so. We used the same attorney, if that tells you anything." «Read the rest of this article»
The 2009 ASPU Wellness Expo will be held February 19th, in the Foy Fitness and Recreation Center on the campus of Austin Peay from 11:00am to 3:00pm and is free to the general public.
One of the biggest obstacles Americans face today in maintaining a healthy lifestyle is not knowing where to begin. The Wellness Expo offers the community access to information on health, wellness and fitness services and providers throughout the area. «Read the rest of this article»
It is a common complaint that our young people do not get enough physical exercise. Too soon in their academic career playtime at recess is done away with and static sitting dominates their time. The Matthew Walker Comprehensive Health Center is seeking to change that paradigm. The health center conglomerate has announced plans to revive the 'Double Dutch' fitness initiative in Middle Tennessee community schools.
Matthew Walker Comprehensive Health Center heads up the Nashville Reviving Double Dutch Program
Nashville, TN: Matthew Walker Comprehensive Health Center and the Department of Health and Human Services Regional IV Offices in Atlanta, Georgia are committed to advancing the health of the Nashville Community.  The Center was awarded a grant to facilitate the Reviving Double Dutch Program in the Nashville Community, the program seeks to motivate, educate and empower children ages 8 to 18 years old to increase their free-time physical activity levels. «Read the rest of this article»